Ingredients: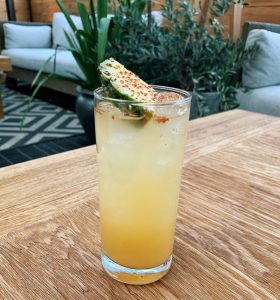 Lime Juice
Pineapple Fresno Cordial*
Soda
Pineapple Wedge
Aleppo Pepper
*Pineapple Fresno Cordial
Pineapple Juice – 2 cups + 1 tbsp
White Sugar – 2 cups + 1 tbsp
Fresno Chilis – 1/2 cup (halved, leave seeds for more heat, or remove for gentler syrup.
Directions:
To make the Pineapple Fresno Cordial, blend in Vitamix Pineapple Juice and White Sugar until the sugar is fully dissolved. Transfer the mix to a small saucepan and heat up on low heat. Add Fresno Chilis. Simmer on low heat for 15-20 minutes. Remove from heat and strain out solids. Syrup will keep in the refrigerator for a week.
To make the cocktail, in a Collins/Highball glass, add 1 oz Lime Juice, 1.5 oz Pineapple Fresno Cordial (see above), and top with soda. Stir gently with a spoon. Garnish with a Pineapple Wedge and a dash of Aleppo Pepper.
Recipe courtesy of the Aba Bar Training Manager, Thomas Moore.