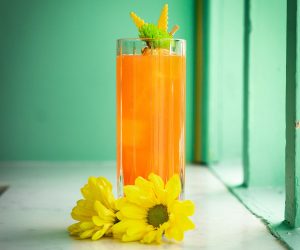 Ingredients:
.75 oz St-Germain French Elderflower Liqueur
.75 oz Fino Sherry
1 oz "Jardin Cordial:" orange bell pepper & tomato cordial
.75 oz Grapefruit Juice
Pinch of salt
Top with 1 oz of tonic (I used London Essence with bitter orange and elderflower)
Add cube ice to fill
Directions:
To make the "Jardin Cordial:" Using a citrus/vegetable juicer, collect 100 grams of strained, seeded orange bell pepper juice and 50 grams of strained, on-the-vine style tomato juice. Add 75 grams of white sugar to juiced vegetable mixture. Stir until sugar is completely dissolved. Refrigerate in a sealed container. Lasts up to 1 week. For the cocktail, build all ingredients except tonic in a cocktail shaker. Add ice, shake vigorously for 10 seconds, double strain into a chilled collins glass. Top with tonic water. Add cubed ice to fill. Garnish with expressed grapefruit oils, trimmed grapefruit swath, and mum/marigold or comparable food safe flower.
Created by Boston Mixologist Jen Laforge of Blossom Bar at Sichuan Garden