Rampur Single Malt's Spiked Chai is sure to warm the hearts and hands of even the most difficult bar guest to please.
Rampur Asava Chai
is a symbol of hospitality year round, but this spiked, spiced milk tea fits particularly well into any cool weather gathering. Plus, it's a great cocktail to celebrate Diwali, the Hindu festival of light! (Oct. 24, 2022.)
Ingredients: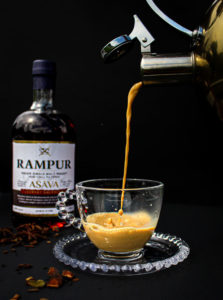 1.5 oz Rampur Asava
.5 tsp powdered ginger
12 cardamom pods
16 cloves
2 star anise
2.5 tsp black peppercorns
1 tsp coriander
3 cinnamon sticks
4 saffron threads
9 tsp black tea
Directions:
Combine all spices (not the tea or sugar) in a pot with three cups of water and two cups of milk. Simmer, stirring frequently for 25 minutes. (Do not allow it to scorch, as burnt milk is difficult to clean.) Add sugar and tea and remove from heat, stirring to incorporate the sugar. Allow the tea to steep for 4-6 minutes. Fine strain into a heatproof serving vessel. In individual, heat-proof cups add 1.5 oz of Asava to 3 oz prepared Chai and stir gently.