Add these Fourth of July cocktails to your menu to create some fireworks at your bar.
Mana Spritz
Ingredients: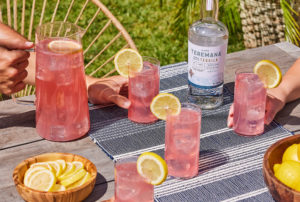 2 oz Teremana Blanco
2 oz Lemonade
.25 tsp Grenadine
2 oz Soda Water
Garnish: Lemon wheel
Glassware:Highball
Directions:
Combine Teremana Blanco, lemonade, and soda water in a highball glass with cube ice. Top with grenadine.
Aphrodite's Delight
Ingredients: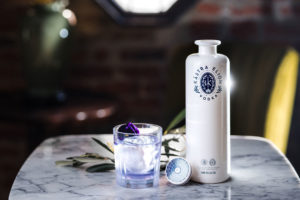 2.25 oz Kástra Elión
.50 oz Mancino Sakura Vermouth
.50 oz Lillet blanc
.25 oz Salers Gentian
Pinch Maldon Salt
Glassware: Rocks glass
Garnish: Viola flower
Directions:
Stirred and served on a big rock. Butterfly pea & mountain greek tea tincture. Garnish with Viola flower.
Gunslinger
Ingredients: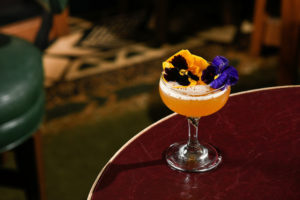 .5 oz Lemon
.5 oz Braulio
1 oz Dolin Blanc
1 oz Creme de Banane
1 oz flor de cana
Directions:
Shake all ingredients and strain into a coupe glass. Garnish with pansy flower.
Recipe created by Mike Campbell for Bar Calico (Flatiron, NYC).
Summertime Punch
Ingredients: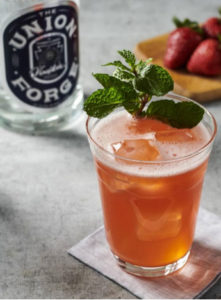 2 oz The Union Forge Vodka
1 ¾ oz Watermelon Juice
2 Strawberries
¾ oz Mint Syrup
½ oz Fresh Lime Juice
Mint Spring (Garnish)
Directions:
Add all ingredients to a shaker with ice and shake vigorously. Strain into a glass and add mint sprig and strawberry garnish.
Tres Agaves Piña Cortada
Ingredients:

2 oz Tres Agaves Organic 100% de Agave Reposado Tequila
1 oz Tres Agaves Cocktail-Ready Organic Agave Nectar
3 pieces of pineapple
2 pieces of red bell pepper
1/2 oz lime
Directions:
Put all the ingredients (including the pineapple and bell pepper) into a shaker. Shake until cool and mixed. Serve double strain in a rocks glass with ice. Place an artfully sliced piece of red bell pepper in the edge of the glass as a garnish.
Double Cross Vodka Cosmopolitan
Ingredients: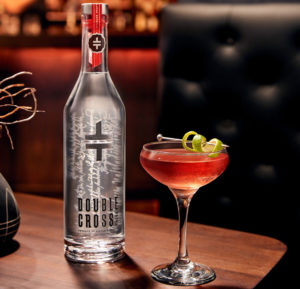 2 oz. Double Cross Vodka
1 oz. Fresh Lime Juice
1 oz. Cointreau
.25 oz. Cranberry Juice
Directions:
Shake all ingredients. Strain into martini glass. Garnish with a floating lime peel.
Recipe courtesy of Double Cross Vodka.
BACARDÍ Summer Watermelon Cooler
Ingredients: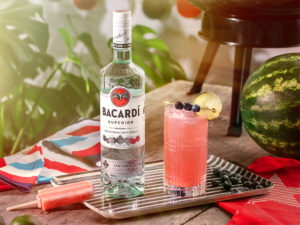 1 ½ oz BACARDÍ Superior
¾ oz watermelon juice
2 oz grapefruit soda
Blueberries and lime wheel as a garnish
Directions:
Fill a tall glass with ice. Add all ingredients. Give a quick stir to combine and garnish with blueberries on a cocktail pick and a lime wheel or wedge.
Meet Me In The Berry Patch
Ingredients: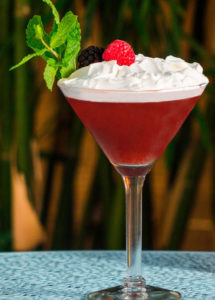 2 oz Uncle Nearest 1856,
1 oz triple berry shrub
2 dashes vanilla bitters
1 tsp bar sugar
3-4 mint leaves
fresh mint foam* (optional)
Directions:
For the fresh mint foam, in a foamer, add six egg whites, three oz lemon juice, and four oz of peppermint schnapps. Add the top and give a vigorous shake. Chill for at least 2 hours for the best smooth consistency. Muddle mint and bar sugar in a cocktail shaker. Add Uncle Nearest, bitters, shrub, and ice, and shake for 8-10 seconds. Strain into a chilled cocktail glass. Combine whiskey, shrub, and bitters in a cocktail shaker with ice and shake for 8-10 seconds. Top with fresh mint foam, berries, and mint.
Created by Mixologist Tara Gillum of Chillicothe, OH.
Papa's ICEE
Ingredients: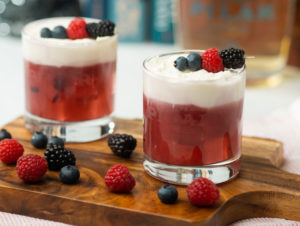 2 oz Papa's Pilar Blonde Rum
0.5 oz simple syrup
4 blueberries
3 raspberries
2 blackberries
whipped cream
Directions:
Muddle raspberries, blackberries and blueberries in a mixing tin. Add Papa's Pilar Blonde Rum and simple syrup. Shake well with ice and strain over fresh ice cubes in a Rocks glass. Top with whipped cream. Garnish with fresh raspberries, blackberries and blueberries. ⁠
Basil Hayden Boulevardier
Ingredients: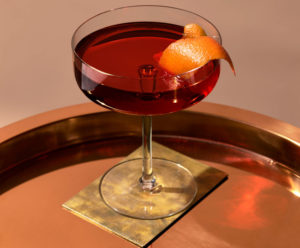 1 part Basil Hayden® Kentucky Straight Bourbon Whiskey
3/4 part Aperol® Aperitif
3/4 part Dolin® Rouge Sweet Vermouth
Orange peel
Directions:
Combine all ingredients in a mixing glass with ice. Stir until cold. Strain liquid into glass and serve up or with a large ice cube. Garnish with an orange peel.
Omar Tate's Bramble Berry Sour Cocktail
Ingredients: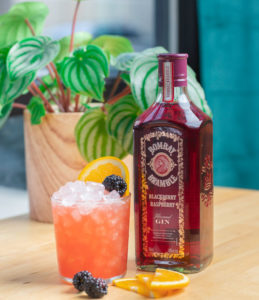 1 ½ oz Bombay Bramble
½ oz Lemon Juice
½ oz Orange Juice
¼ oz Martini and Rossi Bitter
¼ oz Martini and Rossi Fiero
½ oz Honey Syrup (2:1)
Directions:
Shake and strain into a rocks glass with crushed ice. Garnish with an orange wheel and a blackberry.