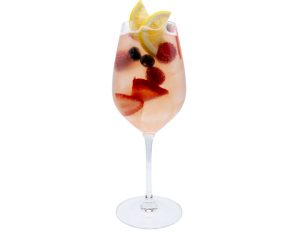 Ingredients:
3/4 oz Dry Vermouth
1 oz Monin® Lavender Syrup
1 oz Grapefruit Juice
4 oz Sparkling Rosé Wine
Directions:
Fill serving glass full of ice. Pour ingredients into mixing glass with 2/3 ice in order listed. Cap, shake and strain into serving glass with ice. Add blueberries, lemon slice, raspberries, and sliced strawberry garnish and serve.
Recipe and photo courtesy of Monin.