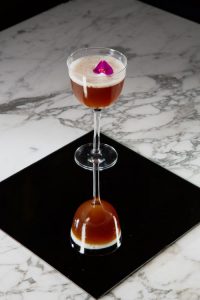 Ingredients:
3 part(s) Woodford Reserve Bourbon
1 part(s) Carpano Antica Formula
1/2 part(s) Punt E Mes
2 dash(es) Boston Bittah
rinse Chambord
2 drops n/a Saline Solution
Directions:
Rinse cocktail glass with Cambered and ice. Mix Woodford Reserve Bourbon, Antica Formula, Punt E Mes, bitters and saline solution in a mixing glass. Strain and stir into rinsed and rimmed cocktail glass. Place garnish *air* on top of cocktai (see below).
Cardenal Mendoza Angelus "Air:" Combine Cardenal Mendoza Angelus, orange peels and soy lecithin in a small saucepan and bring to a boil. Let boil in a medium to low temperature for about ten minutes. Give a little air with a hand blender to emulsion. Dehydrated Cherry Powder. Let fresh cherries dry in Food Dehydrator for 9 hours. Powder dehydrated fruit in a spice grinder. Rim to glass.
Recipe created by Gabrela Lopez, Azabache bar Puerto Rico.