By Zach Williams
The Fourth of July is, for many Americans, an important holiday jam-packed with celebration. People will be out indulging in the festivities, walking in the parades, and watching the firework shows. Bars and restaurants will be gearing up with all kinds of holiday marketing campaigns to draw in the crowds. This begs the question—what should your business do to stand out from everyone else? How can you give your customers a unique July 4th experience?
Keep reading for five unique and fun Fourth of July promotional ideas your bar or restaurant can use.
1.   Patriotic Platters
Embrace the holiday spirit by sprinkling some red, white, and blue into your popular food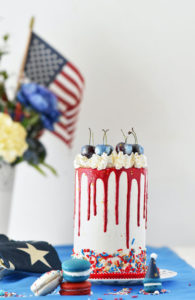 items. This works best for desserts, such as a slice of cake, an ice cream dish with different colored scoops, or frosted sugar cookies, but your customers will also want healthier options. Some easy holiday-themed appetizers include fruit skewers with bananas, blueberries, and strawberries, dyed deviled eggs, or even a charcuterie board that has a red, white, and blue layout.
Not all of the dishes have to be completely dyed or colored, though. You could make an "Independence Burger" special with some red, white and blue ingredients (for example, tomatoes, onions, and blue cheese). There are many possibilities — look around your kitchen and get creative!
2.   Summertime Snow Cones and Slushies
If you have a vending permit, set up a cart on the street and sell snow cones or slushies. Why? Well, icy treats and hot summer days like July 4th are a match made in heaven. They're refreshing, cheap, and easy to make. It's an efficient business because you can churn them out rapidly to service the maximum number of customers. To capitalize on the festive spirit, you can also offer a red, white, and blue snow cone or slushie made with delicious syrup flavors such as blue raspberry, strawberry, cherry, or piña colada.
3.   Reds, Whites, and Brews + Barbecue
If snow cones are the perfect cold treat for July 4th, then barbecue is the perfect hot food. If your business has the space and availability, put together a barbecue event that highlights both your booze and your food. How to structure the event is your choice—you can opt to charge an entrance fee for a buffet experience, or customers can pay by the plate.
Now for the drinks: focus on supplying beverages that complement the barbecue, whether they're beers or wines. You could even get a few kegs if you expect a large crowd. Lastly, construct a 4th of July menu to complement your event. List your barbecue items alongside the drinks they pair with to make your customers' choices easy.
4.   Firework Shows and Spirits
After daytime festivities wrap up, the firework show becomes the main event. Does your bar offer catering services? If you have the proper permits, take your business to a busy location with a full view of the show. Typically at firework shows, people filter in steadily throughout the late afternoon and early evening hours, so an early set-up is crucial. You can provide food and drinks to a confined customer base who won't want to give up their seat to go outside the event for service.
An inherent bonus is that when you cater, you're essentially operating a mobile branch of your bar that showcases your menu items to a wide range of people. So, it's a winning situation all around—you're marketing and boosting your brand at a huge event with lots of potential customers.
5.   Celebratory Cocktails
Can't bring your business to the firework show? No problem! There are other ways to capitalize on the night's big event. If your establishment has an outdoor space with a view, coordinate a late-night happy hour that coincides with the firework display. You provide the comfortable setting, customers provide the business. Offer them high-margin drinks such as holiday cocktails that match the occasion. Within your cocktail menu, make sure to give special attention to these beverages as they will be novel for patrons and earn your business the most money.
You can't go wrong with these five July 4th promotional ideas. If you need a special holiday menu to accompany your promotions, visit MustHaveMenus to quickly and easily design a professional menu.
Zach Williams is a staff writer for MustHaveMenus who is studying English at USC.