By Elyse Glickman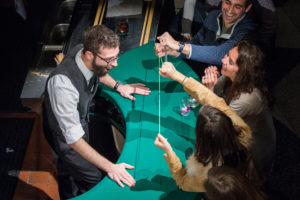 Will the '20s of this century be as roaring as that of the previous one? The simple answer is that it depends on how quickly bars, lounges, and restaurants with bar programs can adapt and shift their paradigms.
For the first two decades of the 21st Century, the bar scene was steered by a "build it, and they will come" philosophy and a solid formula: Take a spirits or bartending trend, have your bartenders master the skills and recipes, decorate accordingly, and open the floodgates. "Mixology" became an exciting buzzword, and the increasing use of social media added voltage to the electrical charge that powered word of mouth to spread and new customers to come and join the fun.
Some bar owners and managers, however, decided to build their bars into a full-on, immersive adventure that transports guests to a completely different world. While you can still find bars in most major U.S. cities rendered in time-tested themes using curated decor (Tiki, Prohibition speakeasies, English and Irish Pubs), theme bars getting attention beyond their respective cities transcend the nostalgia wave and tap into a variety of special interests, pop cultural phenomena, and even the interesting lives of some owners through attention to detail.
High-profile bars established as bona fide escapist destinations rather than neighborhood watering holes include The Lovecraft (Portland) and Donny Dirk's Zombie Den (Minneapolis), focused on horror movies and Halloween-all-year themes; Gotham City Lounge (NYC) and Villains Wicked Heroes (Atlanta), celebrating comic book culture; spy-themed Safe House (Milwaukee); film noir-inspired Noir Lounge (San Francisco); and journalism-themed Local Edition (San Francisco).
"People are looking for experiences, especially [when] we're emerging in an unfamiliar post-COVID world," notes Manny Nieves, Pacifica Hotels' Corporate Beverage Manager, regarding Lilly Rose inside the Wayfarer Hotel in Downtown Los Angeles.
Nieves describes Lilly Rose as a "whimsical and wonderful basement parlor where the bizarre meets the beautiful." Even with its "Alice in Wonderland" flavor, it is still adaptable for different events to keep customers coming in regularly. "Everyone wants to bank in memories, laughter, and connection, which is exactly what we aim to provide at Lilly Rose—and with a drink in their hand," says Nieves.
Drinking in the Ambience
The Chicago Magic Lounge is devised as an experience with surprises around every corner. Guests enter through a laundry room and emerge into an Art Deco-style lounge—a mysterious, magical setting that is both retro and fashionable. The requisite attention to detail can be found in the lush 1930s interior design and electro-swing ambient music as well as the pre-Prohibition inspired cocktails with names like "Sleight of Hand" and "How Houdini Died." A mini-stage is built into the bar where close-up magic is performed every night.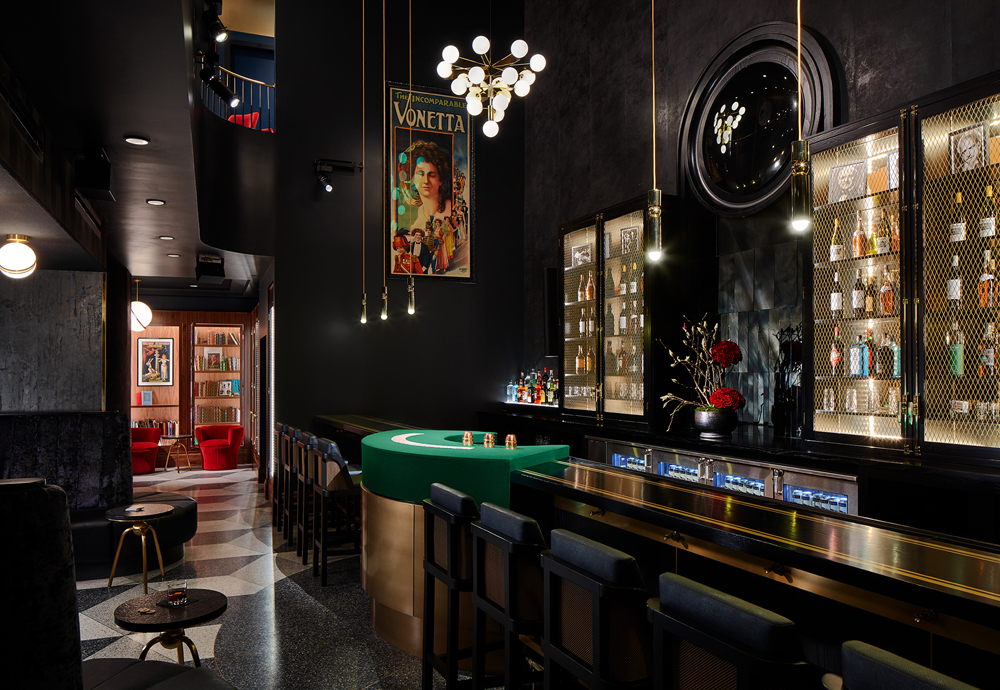 "As a theater and speakeasy lounge dedicated to the history and experience of close-up Chicago-style magic (also known as bar magic), we specifically wanted to center the guests and make them the hero in the story of their visit," says Chicago Magic Lounge Marketing Director Cynthia Ferkol. "The discovery of the speakeasy entrance, the optical illusion floor in the bar bathroom, a library full of magic ephemera, and their participation in the magic make for very Instagram/TikTok-able moments where every customer is the star. Our concept is deeply rooted in magic history."
Another bar deeply rooted in history is New Orleans' Arnaud's French 75 Bar. The bar starts with speakeasy decor as its thematic foundation, but Head Bartender Christoph Dornemann notes what makes this spot a destination bar is its mix of French and Big Easy sensibilities. However, as time has progressed, management found it needed to keep the concept relevant by staging special events that complement the identity of the bar, such as a James Bond-themed martini happy hour, a Thin Man (1930's detective film series) party, and tropical cocktail hour.
"The identity of our bar was originally built on early 1900's escapism," says Dornemann. "While the bar itself is historic, the decorations and design were changed over time to further immerse the guests in 1920s Parisian safari aesthetic. While this setting was put in place more than 20 years ago, we continue to build on the experience with classic cocktail offerings, modern classic interpretations, and elaborately garnished tropical cocktails. We also offer cocktail specials that celebrate local and national holidays."
Cocktail bars celebrating past decades have also proven popular. Although the '90s and '00s fashion aesthetic and nostalgia are poised to return to the pop culture universe, the '70s and '80s nostalgia is alive and well at establishments like JoJo's Beloved in Atlanta, The Smoking Gun in San Diego, Fable Bar in Nashville, Death or Glory in Delray Beach, and Rosemallows Bar in Long Beach.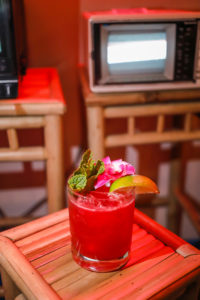 All of these bars have each found a unique way to allow Gen-X customers and others enamored with the era to escape to that simpler time, or as Fable Lounge Co-Owner Erick Erickson explains it, "When arcade games, bell bottom jeans, and viewfinders were all the rage."
Design elements like a bright green bar and retro-orange-and-yellow-striped walls that pop out as soon as you enter help to evoke the bygone era. Cocktail recipes also call back to a time when the Long Island iced tea, amaretto sour, espresso martini, and anything with blue curaçao was at its peak.
However, as the drink recipes need to be translated for modern palates, Erickson (and other bar owners and managers interviewed for this story) says this is accomplished by swapping out old, artificially sweetened ingredients and well spirits with fresh ingredients and higher-end spirits. Erickson says his bartenders have found ways to make the cocktails fresh, exciting, and almost unrecognizable except for presentation. Guests even have a unique way to view the menu—through old-school red viewfinders.
Other Fable bestsellers are themed, including The Golden Girls, made with Wild Turkey Rye, vanilla, honey, lemon and black walnut bitters; and The Karate Kid, with Suntory Whiskey Toki, blood orange amaro, and pecan bitters.
At Rosemallows Bar, guests can expect a, "tropical/Tiki '80s themed bar with some Miami Vice vibes and a hidden Tiki bar in the back," says Owner Jimmy Han.
"The '80s theme brings a lot of the fun neon and tropical design elements to compliment our fruit-forward cocktail and Tiki program," says Han. "Aside from the rad drinks, I think the greater appeal to the 80's is a throwback to the nightlife back in the day before technology ruled our lives. No cell phones, no constant internet and social media, no distractions, and only partying with the people in front of you."
Death or Glory, inspired by The Clash's 1979 song of the same name, was devised as a bar where tropical escapism meets punk rock hedonism.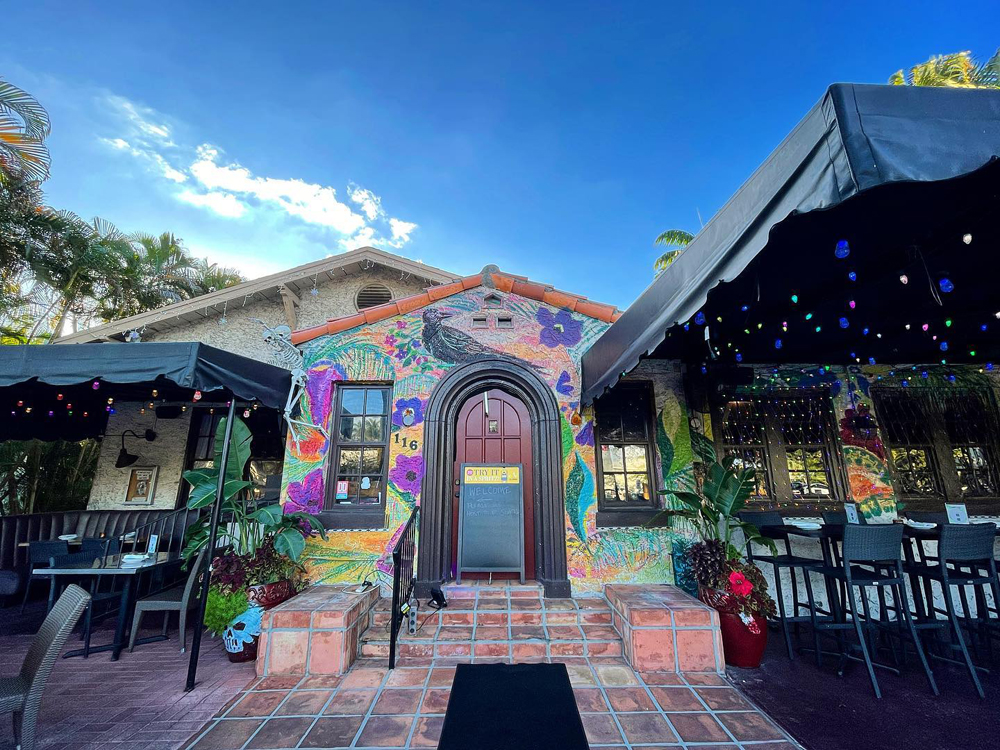 "Escapism was alive and well in the '80s (many thanks to Jimmy Buffet), and tropical drinks were all the craze," says Bar Manager + Lead Bartender Kristen Shaneyfelt. "As a bar specializing in tropical drinks and thriving in creativity, we're constantly looking for ways to take popular drinks from the past and put our own quirky, contemporary spin on them."
Meanwhile, Chris Reece, owner of The Pike Restaurant & Bar in Long Beach and former drummer of Social Distortion, dug into his life experience as a musician during the '80s and beyond to shape the guest experience at his bar. "The pandemic made people realize how much they enjoy live music because they had to do without it," he says. "To add that extra edge, however, we are constantly adding rare and unusual items to our decor to make us unique and harder to imitate. People appreciate interesting decor more than ever, as bland corporate restaurants are becoming more common."
Maintaining the Experience
Despite COVID-19, labor shortages, and supply chain issues, owners and management are making sure that any changes or adjustments they make don't greatly alter the guest experience.
For example, although drink and food prices continue to rise, the managers and owners maintain the value proposition for theme bars has always rested in quality over quantity. This goes for not only cocktails, but also the small details and interesting, conversation-starting surroundings that add up to a great escape customers will want to return to regularly.
Ferkol says that in spite of COVID-19 forcing certain changes to live entertainment, the Chicago Magic Lounge's clientele has been supportive and enthusiastic since it reopened in August 2020. "We believe that interactive live experiences that encourage socialization are the future of bar entertainment," she says.
During Chicago Magic Lounge's closure at the height of the pandemic, the management added new elements to the lounge's collection of magic ephemera. It also installed ionizers in the air conditioning to purify the air and implemented a vaccine-only policy for all guests. Staff members check for proof of vaccination at the door, and the bar requires all staff and magicians to be fully vaccinated and boosted. Stage magicians need to wear masks when not performing.
Lilly Rose also made adjustments to keep the "wonderland" safe without compromising the theme. "We have taken standards for cleanliness very seriously and regularly enforce our hygiene and daily cleaning and disinfection procedures for the bar," says Nieves.