By Megan Prevost
The best bars, breweries, pubs, and the like do more than selling good beer — they make you feel part of something fun, comforting, and familiar. Building a sense of community within your bar helps build a regular customer base which, in turn, helps attract new customers who want to join in on the fun. Aside from its beneficial impacts on your profits, having a sense of community at your spot helps drive the mission you likely had upon opening a bar in the first place: it creates a group of like-minded individuals who can find a sense of identity thanks to you.
Creating a distinct, palpable sense of community within your bar will take more than just selling your products to customers. Here are some helpful tips to get you started.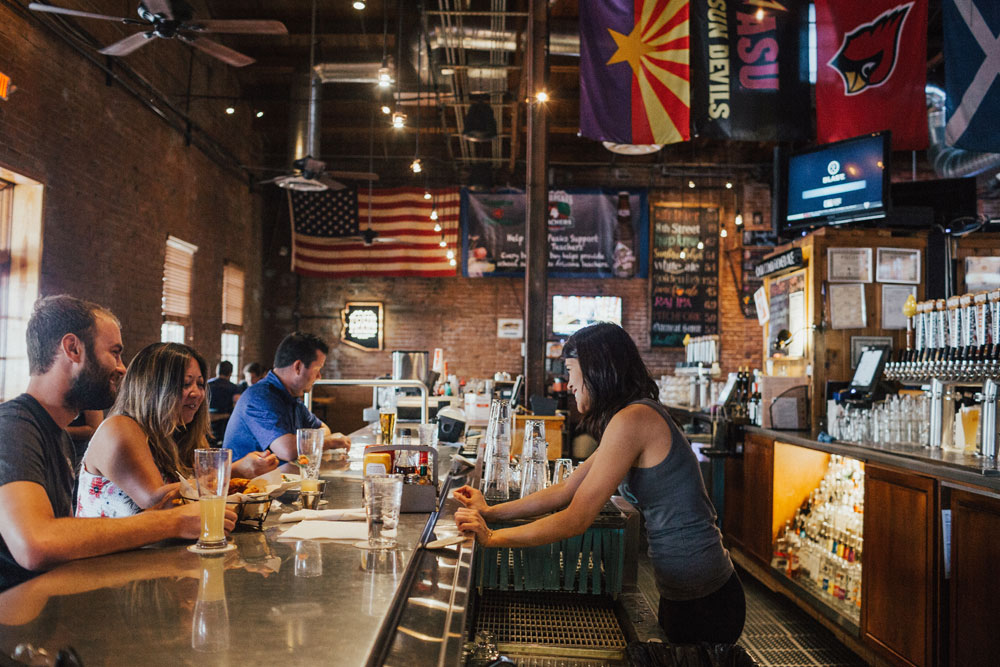 1. Have a Great Menu
First, make sure you're offering a worthy product to get feet inside your door. Your bar menu should be filled with desirable bites and brews that can't be found elsewhere. Likewise, the items on your menu should collectively build a unique brand identity for your bar to further emphasize its sense of individuality. This individuality is what will help create a clique-like community that can only be felt and found inside your space.
2. Have Great Customer Service
If your menu is what attracts people to your spot, your customer service is what should keep them there. A bar with rude or inefficient customer service won't be able to sustain a crowd, let alone a community. Hire smartly and train your staff to interact with customers to make them feel heard, appreciated, and special.
Your employees are often the first "community members" that new customers will interact with, so it's important that they immediately give off a welcoming aurora. Rather than simply practicing professionalism and politeness, have your staff well-versed in menu items so that they can accommodate customers' individual needs and preferences.
If you've ever visited a bar or restaurant where the server took the time to help select a menu item that suited your taste, you know how much that helped you feel connected to the eatery. Treat customers like your best buds in a community, and customers will begin to feel that that's what they are.
3. Give Your Bar a Unique Identity
For customers to begin to feel loyal to your spot, there will need to be some distinct, identifiable features that make your bar stand out. This all begins with branding. You'll want your bar to have a unique, identifiable brand or theme that comes across cohesively in your physical bar, your menus, and even your social media presence.
Design
Your company's values and mission drive your brand, and aspects of design carry this message across. Come up with a brand color scheme and an eye-catching logo that you'll display everywhere. Design an eye-catching bar menu that features on-brand colors and voice.
Likewise, consider your brand and audience when designing your bar's physical space. This will influence the types of seating you have, the artwork you choose to display, the music played inside, and even the lighting you choose. Create a distinct atmosphere that portrays your bar's unique brand.
Merch
Selling branded merchandise like stickers, t-shirts, hoodies, beer glasses, koozies, keychains, hats, and more is a phenomenal way to establish your brand and build a community. Those who want to be part of your bar community will want to proudly show their support and allegiance to your bar by buying and wearing branded merchandise.
Social Media
Having a strong social media presence is important for your bar. It helps new customers find you and keeps followers up-to-date about events and any news about your bar. Likewise, social media is a great way to personally connect with your customer base, whether you interact with their posts, reshare their content, or share valuable content that they can look forward to.
Share behind-the-scenes footage at your bar, photos of regulars enjoying themselves, or even fun contests for lucky winners to earn gift cards to your spot. All of this is content that viewers will feel connected to, making customers feel that much more fond of your bar.
4. Connect With Local Spots
Building community within your bar often starts with connecting to the actual community you're located in. Whether you've recently opened or simply want a bigger sense of community in the place, you already have, begin establishing your bar as a community player by connecting with local businesses, eateries, or nonprofit organizations.
When you collaborate with spots that are already known in the neighborhood, you'll get your bar's name on the roster for potential customers who haven't yet heard of your spot. Customers of the business you collaborate with will already trust that you've got something good to offer. Here are some ideas for community collaboration:
Organize Fundraisers
Get in touch with local nonprofits and find ways to help them out through your bar. Though most people will gladly support any charity, it helps to consider your audience when selecting a nonprofit. If you're a distinctively dog-friendly bar, connect with your local animal shelter. If you serve lots of families, try a children's hospital. You might even find a small nonprofit started by a community member or customer that you can help support.
Announce that you're donating select profits from a specific beer or product or host a big event wherein proceeds from ticket entry or bar sales go to the organization. These events help solidify your spot in the local community and make customers want to be part of your mission.
Promote Local Talent
There is likely a community of talented local artists and musicians in your area. Whether you display and sell paintings or pottery from local artists (also an easy way to add decor!), offer a weekly live music gig to bands, or host open-mic nights, these artists and their supporters will appreciate your support and feel that much more inclined to spend time at your spot.
Offer Collaborative Specials
If your bar doesn't sell food, it means you've got a great opportunity for collaboration. Invite a favorite local food truck to park out front on select days of the week so that customers can pair their brews with bites.
Consider promoting a simple pairing to boost bar sales — think a curated beer flight to enjoy alongside a taco trio. Likewise, you might partner with a nearby eatery that doesn't sell alcohol to run a special wherein they hand out coupons to your place and vice-versa.
5. Host Events
Aside from hosting fundraisers and collaborating with local eateries, there are numerous ways to host events to support and grow a community.
Themed Events
Is your bar filled with flat screens? Host themed events for big game days or even weekly game night events! This will help make your bar the place to be for fans of local teams or fantasy-football groups.
Likewise, host fun events on holidays or special days associated with your community. Curate menus for these events, including new on-theme dishes and drinks, discounts, or specials.
Events to Promote New Products
If you're about to introduce a new beer or a collab with another local bar or restaurant, advertise an event to boost sales and awareness about your new offerings. New customers may see these ads and stop by, while returning customers may be intrigued by new items they haven't tried from a bar they love.
Build a Community Others Want to be Part of
Community begins by garnering a loyal customer base. Customers become loyal when they feel important, are satisfied with your services, and are passionate about your bar's mission and values. By creating a distinctive brand, offering quality products and services, and directly interacting with your local community, you can create a loyal community within your bar itself.
Megan Prevost is a marketing content writer for MustHaveMenus. Her work has appeared in App Institute, FanSided, FSR, Modern Restaurant Management, PMQ, RestoBiz, Small Business Currents, and The Daily Fandom.