As fun-hungry customers flock back to bars, restaurants and arcades, they're eager to reconnect with friends and share some lighthearted recreation. Enter Retro Raccoons, the latest entry from Incredible Technologies and its indie partner, Glitchbit.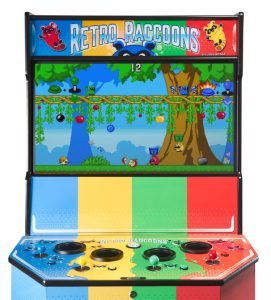 With its nostalgic appeal and simple, fast-paced format, Retro Raccoons is seemingly made for this moment.
Its vibrant, bit-mapped graphics recall the golden age of late '80s/early '90s video games, while its one-joystick, one-button format makes it accessible to kids, their grandparents, and everyone in between.
And—despite the industry's ongoing supply chain woes—the U.S.-made unit is available for purchase now.
This is more than a family-friendly coin-op game. Choose "Cheers Mode" over "Cash Mode"—and behold the world's first arcade-style drinking game, complete with four drink holders set in a spill-proof console. To start the game, players nest their beverage of choice—bottle, can or glass—in their color-coded drink holder. Once play begins, they're invited to hoist a glass each time they lose, boosting beverage sales as well as good times.
"What really drew us," says Adam Kramer, President of Amusement at IT, "Is that it's a giant fun magnet, for the players and everyone else in the room."
"This is IT's first partnership with an indie game designer—in this case Adam Wray of Glitchbit—and we're excited about that, too."
Designed for two to four players, each 7-8 minute game session consists of eight mini-games, randomly selected from more than 40 pre-installed titles, all which pay homage to well-loved, classic video game genres.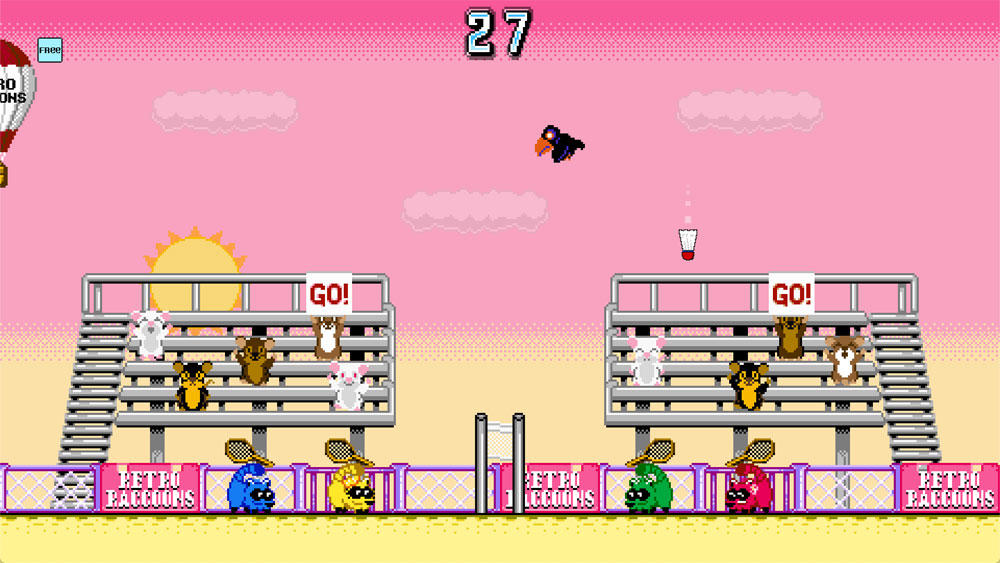 Each player chooses one of the four bushy-tailed raccoon characters, who alternately face off and pair up in various fun, familiar challenges. One moment they're jumping off platforms and playing tug-of-war; the next, they're skateboarding and dodging zombies. The action is set to chirpy "chiptune" sound effects that recreate the '80's video gaming experience.
Wray, an experienced game developer, first created the game in his garage for his friends' enjoyment. It was such a hit, he decided to show it at a Midwest game expo, where it took first prize and drew IT's attention.
"I loved retro games growing up and wanted to honor them by creating a mash-up of familiar mini-games that span game types and genres," says Wray.
"I wanted to emulate how we used to play games: together with friends while enjoying drinks—in contrast to the isolation of online gaming."
In order to extend the game's longevity, IT will adopt the strategy of its immortal bar game, Golden Tee: leveraging each unit's built-in Internet connectivity to continually add new games and fresh content.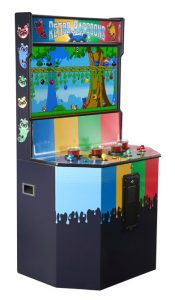 With its slim, 38″-wide cabinet, light-up marquee and 40″ monitor, Retro Raccoons adds a festive touch any venue. And beyond its vintage vibe, it offers vintage-style value. Each 7-8 minute session costs just $1 per player—a great entertainment deal by any standard.
It's a great deal for venue owners, too—plus, all future updates are free. Best of all, for venues eager to give customers a fresh reason to stop in ASAP, units are available and shipping nationwide.
Although sourcing parts has been an industry-wide challenge, IT is positioned to ship several hundred units in this first production run. Retro Raccoon sales are already brisk, however, so interested buyers are encouraged to get their tails in gear.