By Mark Plumlee
An open mic night isn't just for the up-and-coming musician, comedian, or poet. It's also an excellent promotional opportunity for any bar owner.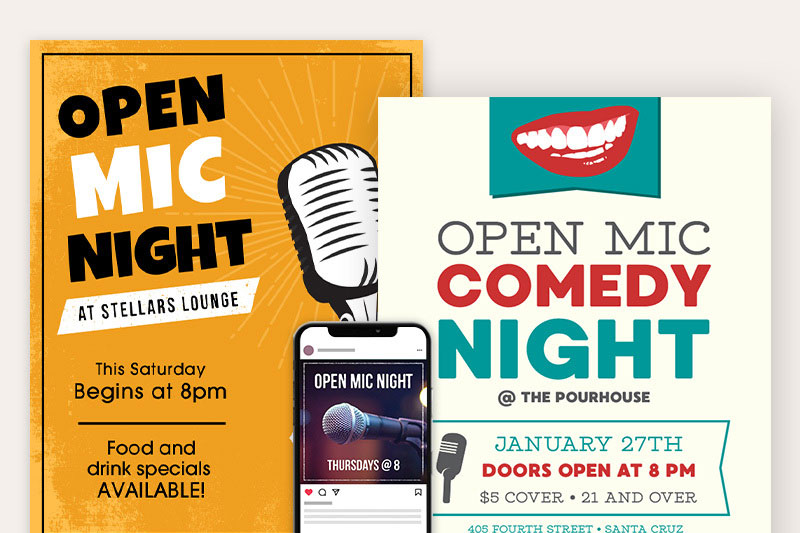 Imagine that quiet Monday or Tuesday night transformed, your bar stools and tables packed with men and women dressed in tweed, drinking craft beers and cocktails, nodding their heads to the velvety sounds of a saxophone, or laughing at a well-timed punchline.
An open mic night is a great way to attract new guests and make your bar an important fixture in your local community. While it might seem like an intimidating or time-consuming endeavor, with a little patience and a good marketing strategy, you can hold an open mic night that is as profitable for your performers as it is for your business.
From connecting with local performers, to nailing your social media marketing and advertising around town, here are eight ways to promote your bar's open mic night.
1.   A Recognized Host
First, partnering with a recognized host who understands the open-mic community can be a big win. They have a lot of information that can be helpful, especially during the early stages of an open mic, and their steady and experienced hand will help guide you in the right direction.
They can help you find open-mic listing websites, local performers, hot spots to post your event flyers, and other online and in-person open-mic communities. Additionally, not only can they host your open mic for you, they can help promote your open mic on their social media platforms, increasing your social media exposure.
2.   Local Performers
Often, open mic nights will have headlining acts to close the evening. Headliners and other recognized local performers can draw crowds of loyal fans, including those who might not generally attend an open mic, but would likely attend a headliner's concert or show. Headliners will likely know other talented performers, helping you navigate the local music scene while increasing the quality of your open mic. And partnering with local performers allows you to use their social media to promote your event. Cultivating relationships between your event and talented musicians is the fastest way to level-up your open mic.
3.   Open Mic Listing Websites
There are a lot of different listing websites that can help you promote your open mic night. Make sure you are promoting on sites like openmikes.org, openmic.us, and eventbrite.com. This is not a complete list, but this will get you started as you find more, or as you find listing websites that are better suited for your particular region.
Also, listing your event on Meetup and Tripadvisor will allow you to cast a wider net for your promotions. These sites aren't specifically designed for open mics, but they offer the chance for a potential customer to see what's going on in their particular area, and that should include your event too.
4.   Flyers
Event flyers are an important part of any marketing plan for an open mic. A well-branded flyer that compliments the branding of your bar/restaurant will allow you to maintain a consistent style and tone across multiple promotions and platforms. Also, flyers are a must because they pull double duty. In physical form, they grace the walls of your business as easily as the cork board of your local music shop, university, or any other place where artistic types hangout. In digital form, they can be posted to your social media accounts and shared online.
Your flyer should be informative and eye-catching. If you need help, you can find collections of templates online. These easy-to-edit flyers are sure to give you some ideas.
5.   Facebook Page
While Facebook can be an invaluable tool to promote your bar's open mic night, you'll want to make sure you use it correctly. A Facebook page set to "public" is the most versatile and easily accessible way to promote your open mic night, whereas a Facebook group is only visible to Facebook members, and a Facebook event is better suited for a single event, rather than a recurring open mic night.
Once your page has 25 fans, you can create a custom URL. The custom (and much shorter than the Facebook-generated URL) can function as your open mic night's website and be easily included on your event flyers. This page is where you can post essential information and important updates, in addition to photos, videos, and other promotional material.
6.   Email Lists
When people sign up to perform, whether that be digitally or on a good ol' piece of paper, don't forget to collect their email. An email list can remind previous performers of your events, while also encouraging them to perform again or come enjoy the evening as an audience member. And email lists can be used to inform potential performers of new headliners, new promotions, new policies, and any other important information. Not to mention, now that they are in your system, they can receive other email promotions that your bar might run, hopefully converting them from performer to bar regular.
7.   Food and Drink Promotions
And don't forget to keep your guests hydrated and full. There are a lot of different food and drink promotions you might want to try. You could offer one free drink to performers, happy hour prices to audience members, or buy one, get one on certain menu items like appetizers and desserts.
More creative promotions might include a certain percentage off of a bar tab for the "best" performer, which could be determined any number of ways, from who gets the loudest applause to who brings the most guests with them. Food and drink promotions are a great way to keep your audience and performers happy, making them more likely to come to your next open mic night.
8.   Social Media Posts
Finally, make sure you are promoting your open mic on your social media accounts. Before the event, it would be smart to post your digital flyer along with a link to your Facebook page where your followers can find all of your event information. After the event, post photos and videos of your performers. Just make sure to get their consent first and make sure to tag them in the post so they can share it on their own accounts.
If you need social media ideas that are sure to catch your followers' attention, you can find free Facebook and Instagram posts for your bar online.
Encore!
While promoting an open mic night at your bar might seem daunting at first, it's a fun and creative way to attract new customers to your business, especially on those slower nights at the beginning of the week. With a bit of time and perseverance, these eight tips can help ensure that your open mic night receives a standing ovation.
Mark Plumlee works as the Sr. Editor for MustHaveMenus, a DIY design and marketing service for restaurants with the largest collection of restaurant templates in the world. He enjoys covering and sampling the restaurant industry.