By Elyse Glickman
Greg Bailey, Risk Control Representative at Society Insurance in Fond du Lac, Wis., offers valuable suggestions on keeping your bar's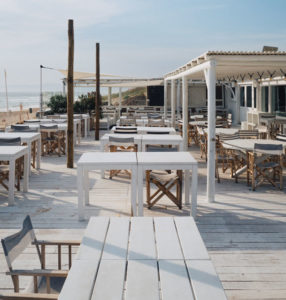 outdoor spaces looking and functioning at their best, while keeping customer safety in mind.
All furniture intended for outdoor use should be appropriately manufactured and designed for commercial and outdoor use, and the manufacturer's instructions should always be followed.
Outdoor furniture should be inspected regularly and at the beginning of each outdoor season for deterioration or damage from exposure to the outdoor elements.
Repairs should only be made as permitted by the manufacturer. If repairs can't be made in accordance with manufacturer guidelines, then damaged items should be appropriately destroyed and disposed of so they can't be used.
In the off-season, furniture should be stored to reduce exposure to the outdoor elements.
All furniture should be properly cleaned and sanitized before patrons are seated to prevent contamination from animals and animal waste that may come in contact with the furniture.
It's important to make sure that all walking surfaces are flat, smooth, and level to reduce the chances of slips, trips, and falls and to also properly drain any precipitation. Surfaces should also be swept throughout the day to remove food and debris and regularly scrubbed to remove the potential buildup of contaminants that can lead to a slip-and-fall hazard.
Any changes in elevation and steps should be properly designed and have visual cues and contrasting surfaces to increase the visibility of the elevation changes.
All electrical and lighting systems need to be appropriately installed by a licensed and insured electrician and rated for outdoor use with Ground Fault Circuit Interruption (GFCI) protection.
It's important that outdoor electrical systems be inspected by a licensed and insured electrician at the beginning of each outdoor season and also regularly inspected for damage and potential hazards.
Heating units should be listed for commercial use and the manufacturer's instructions should always be followed.
Freestanding, upright patio heaters are the preferred type of outdoor heating unit. These units are designed with the heating elements or flames at an elevated height and are guarded to prevent unintentional contact by your guests, especially children.
Open flame gas pits MUST have a properly designed flame guard to reduce the risk of patrons contacting the flame. They should rest higher than the open flame to reduce the possibility of interaction with the flame. An area approximately three feet in all directions needs to be blocked off to reduce the risk of customers getting too close to the flames and heat source.
Ensure all employees know how to shut off the fuel supply in the event of an emergency. The fuel supply valves should be clearly marked and visible.
Fire extinguishers should be placed adequately throughout the area where they are easily identifiable and accessible if they are needed.
Keep the outdoor area open as much as possible for adequate ventilation to resupply fresh air and reduce the risk of carbon monoxide exposure. Heat sources need a supply of fresh oxygen to continue with combustion and to provide heat.
All mobile payment systems should be professionally installed and connected to an appropriately secure wi-fi network.
Consider using shatter-resistant place settings and drinkware to reduce the possibilities of hazardous shards and glass if items are dropped on outdoor walking surfaces that may be more difficult to sweep and clean as compared to finished indoor floor surfaces.
It's important to regularly clean your outdoor dining areas and remove all food debris and garbage to reduce the possibilities of pest and vermin infestations. Consider consulting a professional pest control service provider to establish appropriate control strategies.