The first impression of a meal is a menu, and some spots are ditching the normal and getting creative instead. Ready to be inspired by some of the most unique bar/restaurant menus?
These are examples of places that have taken it to the next level with stunning menus showcasing designs that, in some cases, almost look better than the food and drinks
listed on them.
Sama Street, Brooklyn, New York
Sama Street, located in Greenpoint, Brooklyn, is a window into the authentic and unique travel experience of the East via cocktails and small bites. Inspired by the founders' unique cultural backgrounds and travel experiences, the cocktail menu is a curative collective
that unfolds the story of each cocktail.
On the left of the menu, there is a cabinet sitting on a wooden bar deck by the sea. Each cubby speaks to an individual cocktail with a painted story inspired by its name or ingredients.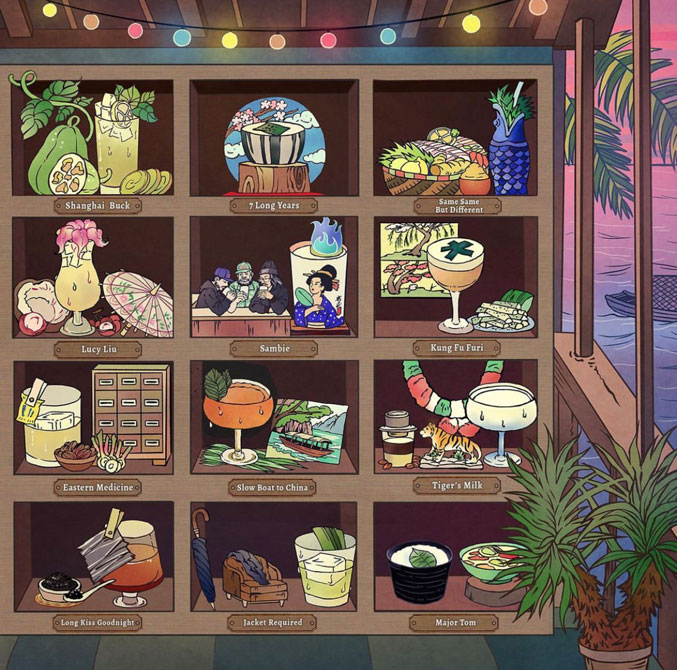 The menu slowly transitions from dusk to night and the neon signs and lights take you to Tokyo streets. If you look closer you may find a hidden Sama Street sign.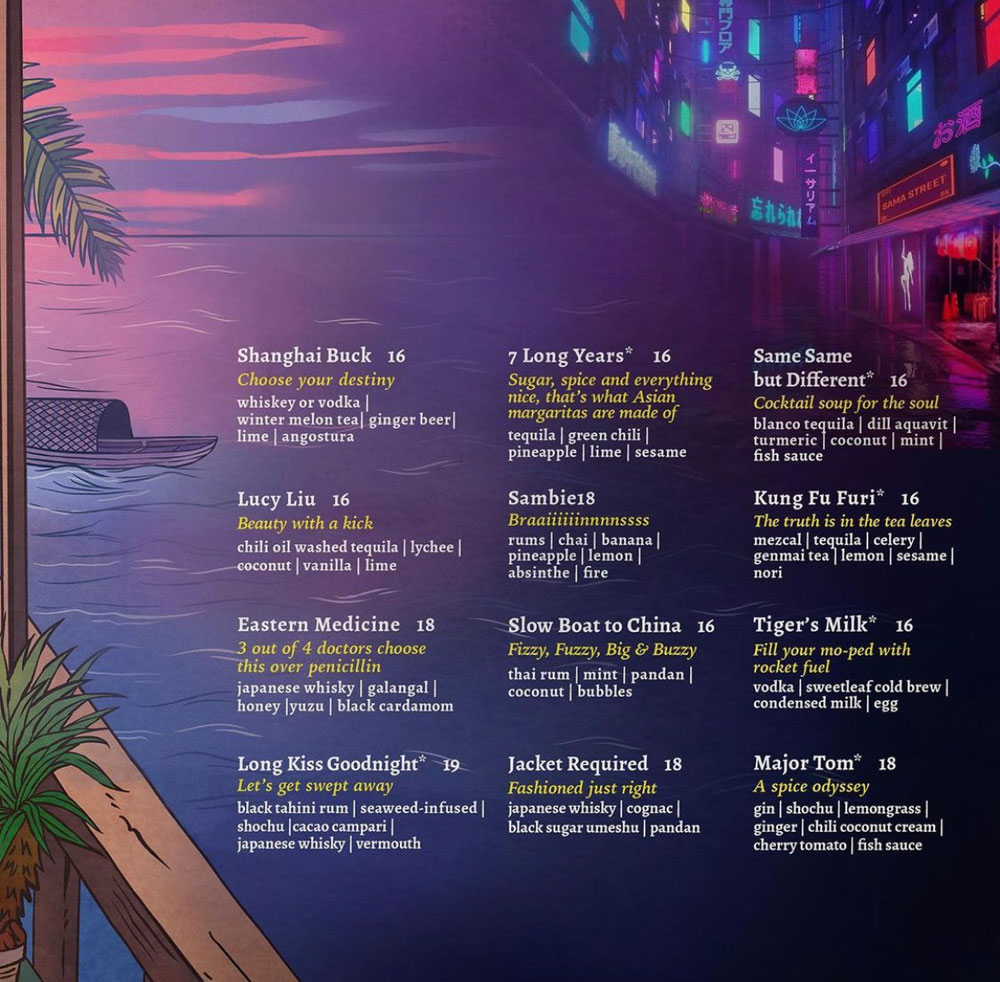 The menu is designed by Over-Rice.
Dromoland Castle, Clare, Ireland
This stunning Irish luxury hotel in County Clare recently revealed a new Tarot-Themed
Cocktail Menu. The menu is presented in a special box, with the hand-decorated cards listing the ingredients used in each drink.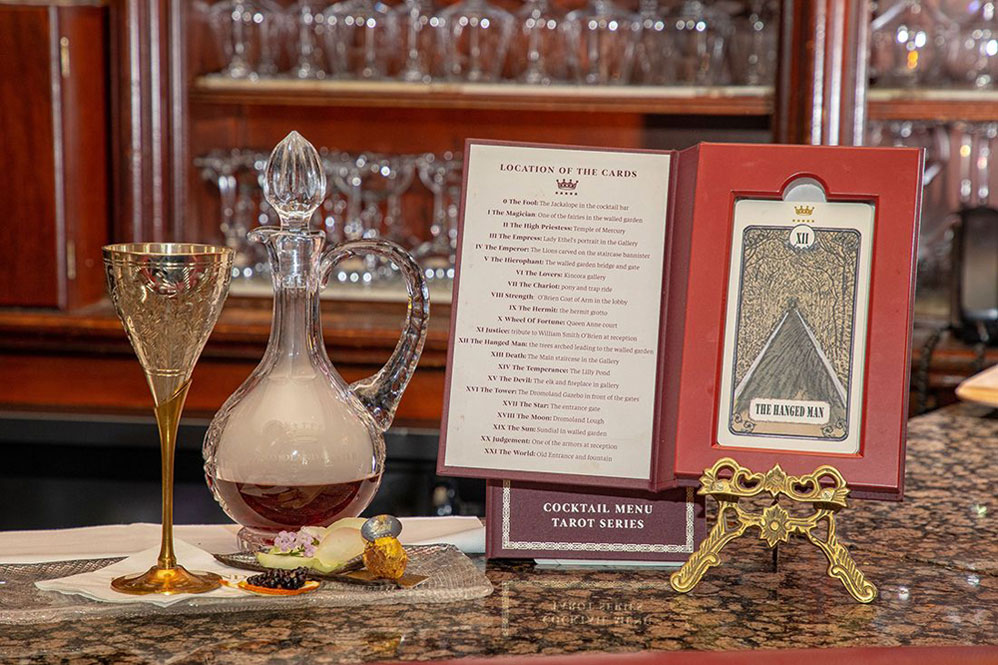 Created by the hotel's bartenders, these innovative cocktails are inspired by classic cards that you might find in any tarot deck, like the magician or the fool, but are created using a range of local and handmade ingredients, resulting in uniquely delicious cocktails.
Patent Pending, Manhattan, New York
Patent Pending is a speakeasy bar created by creative agency Simmer Group so the vision of the place extends from the cocktails to the decor to the menus, all of which have a wonderful vintage patina and rich, layered executions.

The menu plays off of the bar's name with a series of blueprint-like illustrations and notes of cocktails, accompanied by nicely detailed typography.
Grand Army, Brooklyn, New York
Grand Army is known for its top notch drinks and themed menus, and it's current menu is designed like a 90s CD case to honor their current Spice Girls cocktail menu.

Previous motifs include Nicolas Cage, My Little Pony, gemstones, Gilmore Girls, Sade songs, monster trucks, space cowgirls and state parks of Oklahoma.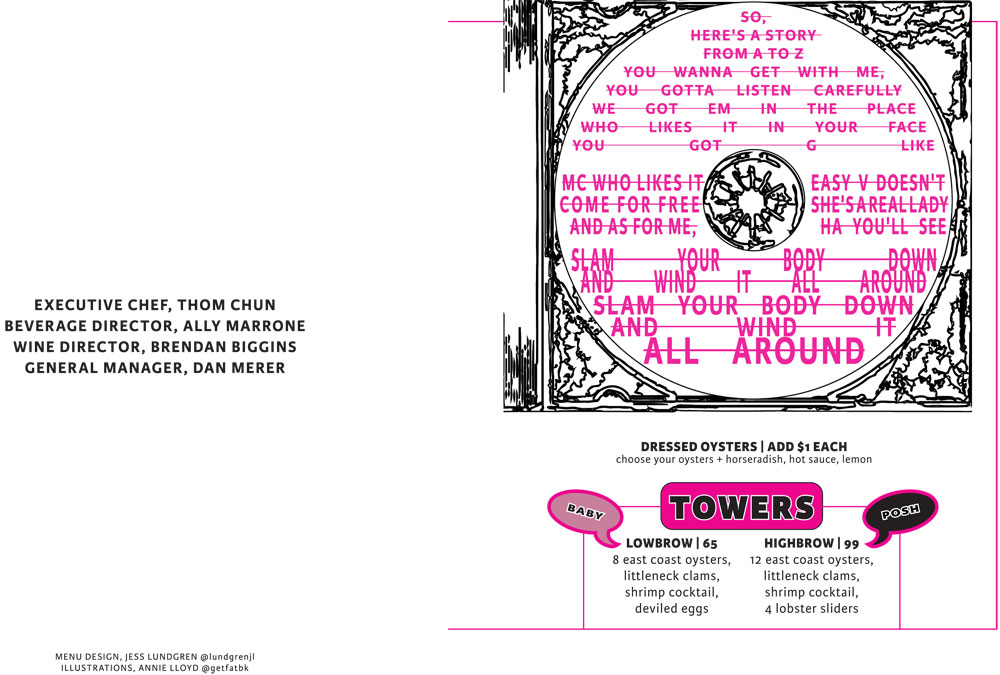 The former General Manager designs them and commissions to collaborate with top local tattoo artist, Annie Lloyd, to draw custom art for the menus.
Village Garage Distillery, Bennington, Vermont
Village Garage Distillery is a new facility in Bennington, Vermont that is making craft spirits out of locally grown corn and rye from the Green Mountain State.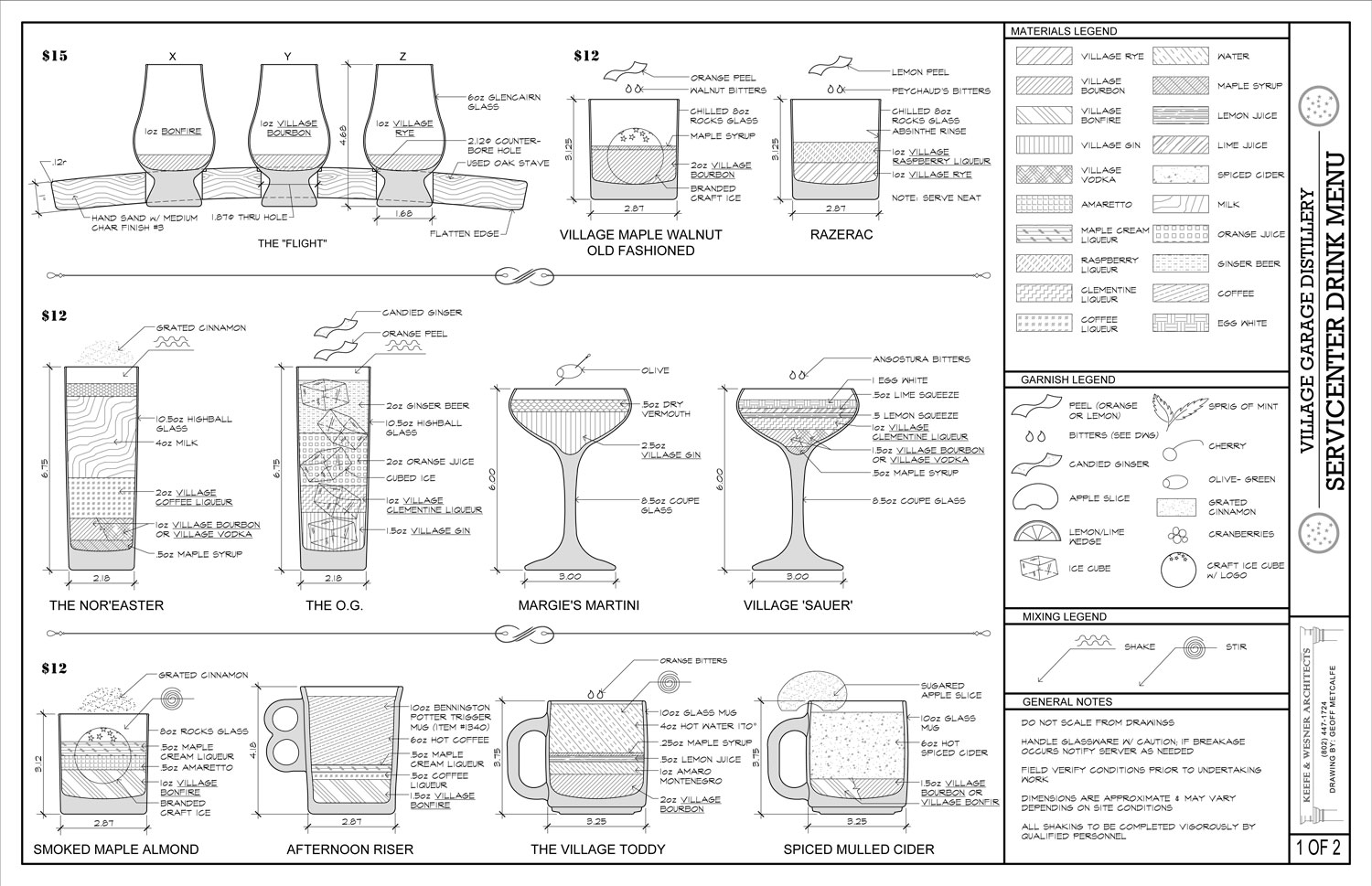 They offer classic cocktails and riffs on a very detailed, hand drawn menu that is sketched similar to a blueprint. This technical looking menu even lists the measurements and ingredients of each cocktail it offers.
Three Dots and a Dash, Chicago, Illinois
Chicago's premier tropical bar and craft cocktail destination, Three Dots and a Dash, is hidden below the bustling streets of River North.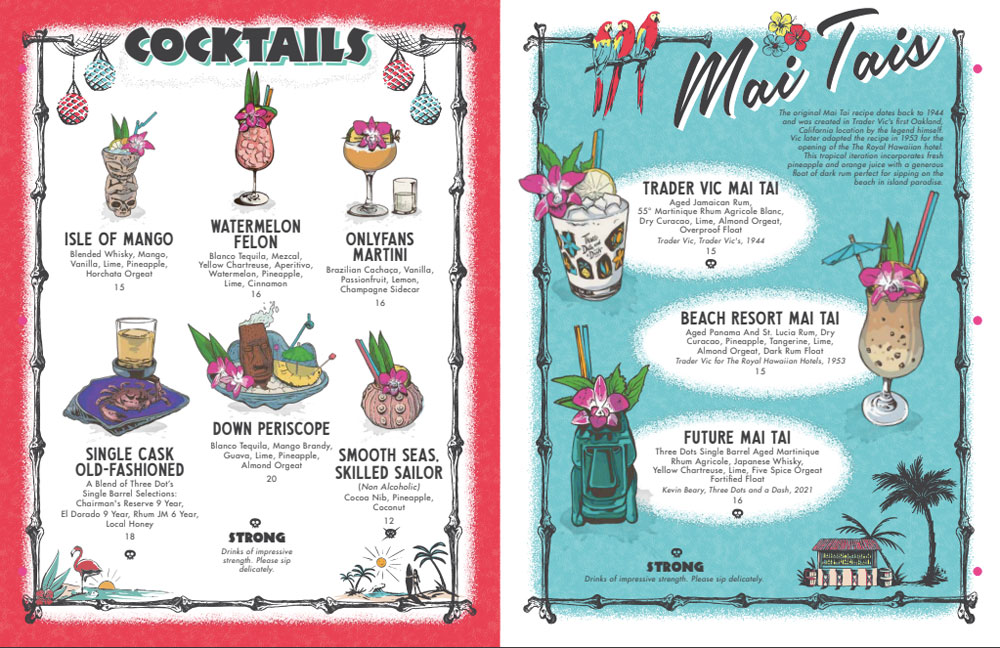 The retro tropical menu, drawn by local hospitality illustrator Alex Payne, artistically highlights its Tiki-inspired cocktails.