The story of how Dad's Bar in Minot, North Dakota came to be is a rambling one—which is just the type of story we're used to Dads telling (hopefully over a beer).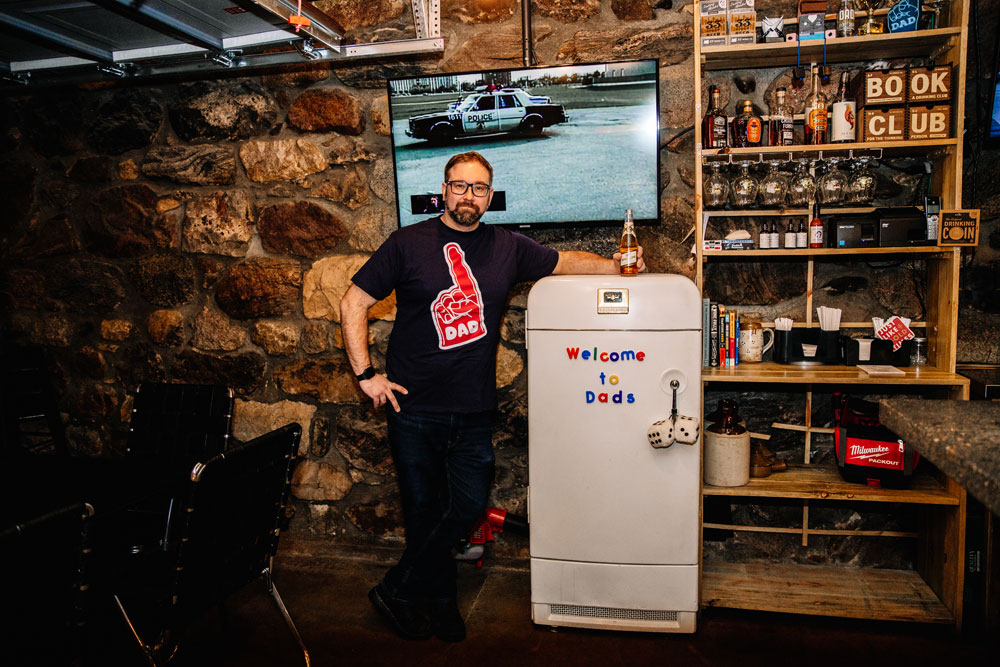 Owner Jon Lakoduk started in hospitality as a server when he was in his late teens. However, his love for food, beverage, and hospitality stretches back to his formative years. He learned how to cook from his great-grandmother, grew up watching his grandfather's guest-centric business practices in his grocery store, and spent many a late night binging Alton Brown's show Good Eats.
After a variety of jobs outside the world of hospitality, it was a friend who needed help opening a brewery that pulled Lakoduk back in. He learned a lot about the front end of the brewery business and also studied to become the first certified cicerone in North Dakota.
His next hospitality gig was taking over control of a bar called The Taproom, which he ran while working at UPS full time. The space adjacent to The Taproom remained vacant, and a few years later, Lakoduk decided to open a speakeasy-themed bar called Saul's in the location. "Minot had a pretty significant role in Prohibition and the illegal booze trade. Minot railroad was one of the closest lines that ran to Canada that still made it back to Chicago," says Lakoduk. "[Saul's is] a very 'secret room in the back of a warehouse' vibe and not much leather, gold, and brass polished stuff. It's more like what a speakeasy would have looked like in Minot."
Saul's started as a wine and beer bar until Lakoduk was able to secure a liquor license and kick off the scratch-made cocktail side of it. And then COVID hit. Lakoduk switched to cocktail delivery, which was popular for Saul's, but The Taproom struggled.
So Lakoduk brainstormed on a rebrand for the bar and landed on the idea for Dad's—an ode to the shared experience of all things "Dad culture." Think lawn chairs, white New Balance sneakers, a never-ending to-do list, collections of tools, and an unhealthy obsession with your lawn.
For the aesthetic, Lakoduk honed in on the area culture of drinking in garages and basements, which was perfect given the space was already in a basement. "It's a very common, upper Midwestern thing—a garage fridge full of beer, sitting on lawn chairs in a garage," he says. "And I think that's still a very common experience no matter what area of the country you're in."
Lakoduk's initial concern was that the new theme would alienate anyone not a part of or into the Dad culture (there's a large Air Force base in the area, and Lakoduk says 80% of his guests are Air Force or their dependents and friends). He soon found, however, that it was a collective experience that many enjoyed poking fun of and couldn't get enough of.
Although he is dealing with the labor shortage like the rest of the industry, Lakoduk says his employees can't get enough of the concept either. "We're pretty selective in who we hire. Our best employees come from our customers and are super into the vibe. They have completely bought into everything that we're doing as far as the bar and my vision," says Lakoduk. "It's not just a job for them; they're constantly engaged with the customers."
Lakoduk's bars are all one-of-a-kind in the area. "We have broken the mold in our town for what we do," says Lakoduk. "It's not saying that there's not been a need for a dive bar or party bar, I love all of those places just as much as the next person, but that seems like that's the equation up here that everybody follows and nobody else is doing it differently. So we decided to do it differently."
Lakoduk closed The Taproom in late May 2021 and reopened a week and a half later as Dad's. "We ripped everything out, tore it all apart and everything, and put it back together in a week," he says. "The Local Builders Association was having a pub crawl that night and I'm like, 'What better way to launch this than the Builders Association pub crawl?'"
The bar aesthetic includes the ubiquitous "garage fridge" full of cans and bottles of beer and cider available for purchase along with a "Welcome to Dads" greeting spelled out in colorful, old-fashioned magnetic letters for kids. Décor includes everything from fuzzy dice,
eponymous Dad signage, and vintage pin-up and road signs to a chalkboard full of dad jokes and an actual working garage door. Trophies including a mounted deer head, a mounted fish, and even a mounted head of the mythical jackalope dot the walls. Seating includes black lawn chairs and card tables as well as a recliner with an overturned Milwaukee Tool five-gallon bucket for an end table.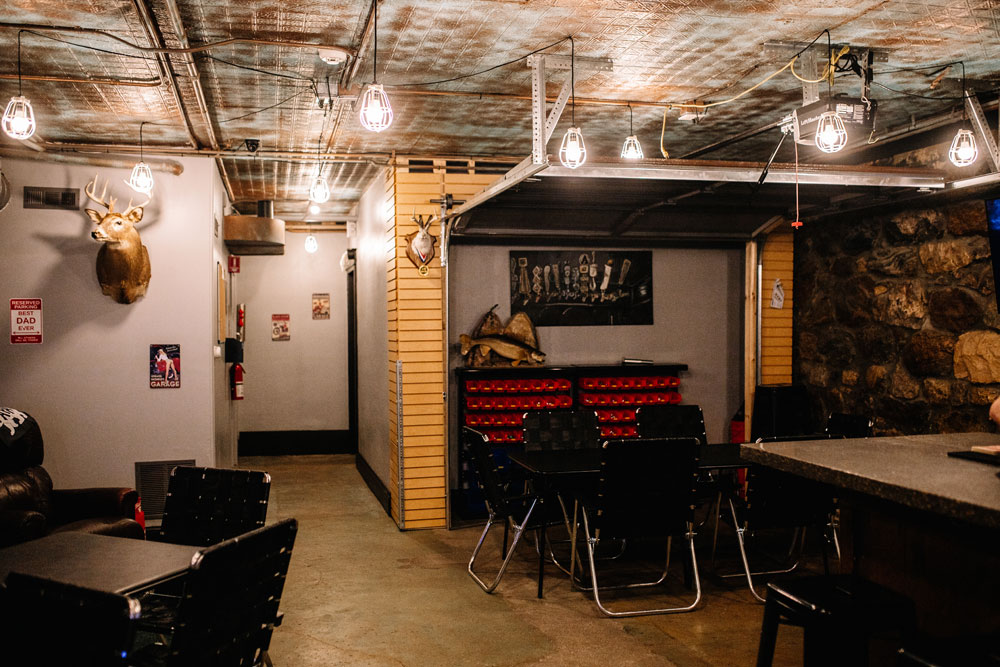 Speaking of Milwaukee, Dad's Bar has an informal partnership with Milwaukee Tool through their tool dealer in the upper Midwest called Acme Tool. "Milwaukee's aware of us and their leadership knows, and they just can't officially sponsor anything. But they love the concept, and they bring people there all the time, and it's super fun," says Lakoduk, who pitched the idea to a local Milwaukee sales rep he met at a bar to get the ball rolling. "So all the tools that we have in the bar on display are for sale."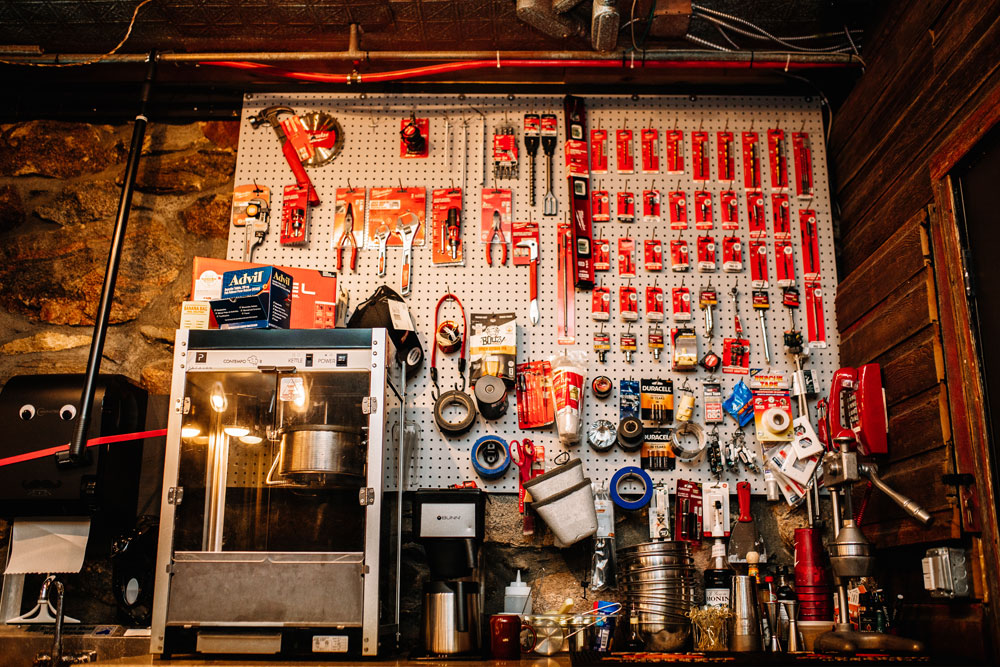 Even the bar's social media and website feed into the vibes of Dad culture. The website—alongside the usual menu, hours, and events—also has fun features to peruse like Dad's "Honey Do List" and the "Ask a Dad" wall. "We try to share funny dad stuff on social media; each one of the channels is a little bit different and some are very sporadic—like a Dad would be super nerdy about it," says Lakoduk. "The whole Dad thing is, 'I don't need to pay somebody, I can do it myself.' So the website, I did it myself, and I actually have a pretty decent amount of experience in design as far as WordPress goes."
Dad's is even into getting the digital world of NFTs, which are non-fungible tokens or digital assets that represent real-world objects like art, music, and videos. In true Dad fashion, Lakoduk is figuring it out on his own, but his idea is that the drawings of children will always adorn Dad's fridge—either in the physical world or the digital one. So Dad's Bar's Fridge Art NFT collection (@dadsfridgeart) will include digitized, original artwork created by Lakoduk's kids. "They have a choice of contributing with chores or drawing pictures for me. I also told them I'd pay them a percentage of the sale in to their college funds, which also includes the bar investments," he says. "It is teaching the kids about embracing emerging technologies and not being scared to fail or flop. I hope that one of them gets involved in small business, which we all know is the backbone of the economy."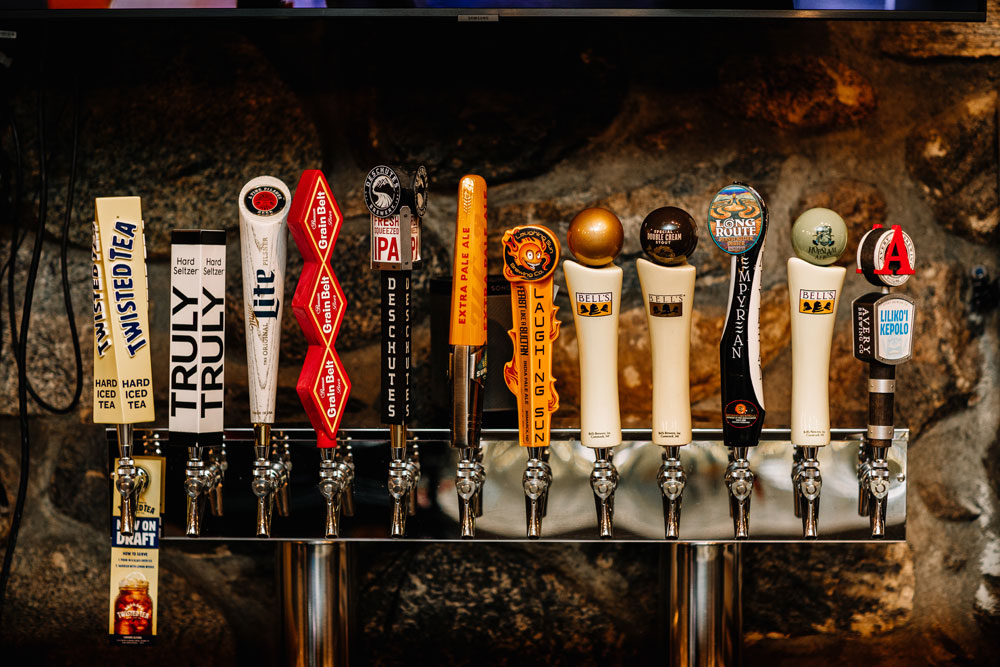 Returning to the tangible world, Dad's Bar offers the expected variety of beer. In addition to what's in the fridge, Dad's still has some of the unique offerings leftover from The Taproom that they occasionally pull out, like offerings from North Coast Brewing, Oskar Blues Brewery, and Deschutes Brewery. Dad's Bar runs 12 draft lines—six are domestic selections like Miller Lite and Busch Light, and the other six are more local brews that can include Imperial Porter, Grain Belt, Schell's Firebrick, and more.
But Dad can whip out a mean cocktail, too. Guests can choose from Dad's Old Fashioned, The Dadmosa, the John Collins, The Dude (a white Russian), and the John Daly Sr. (Smirnoff, Twisted Tea draft, and sour mix).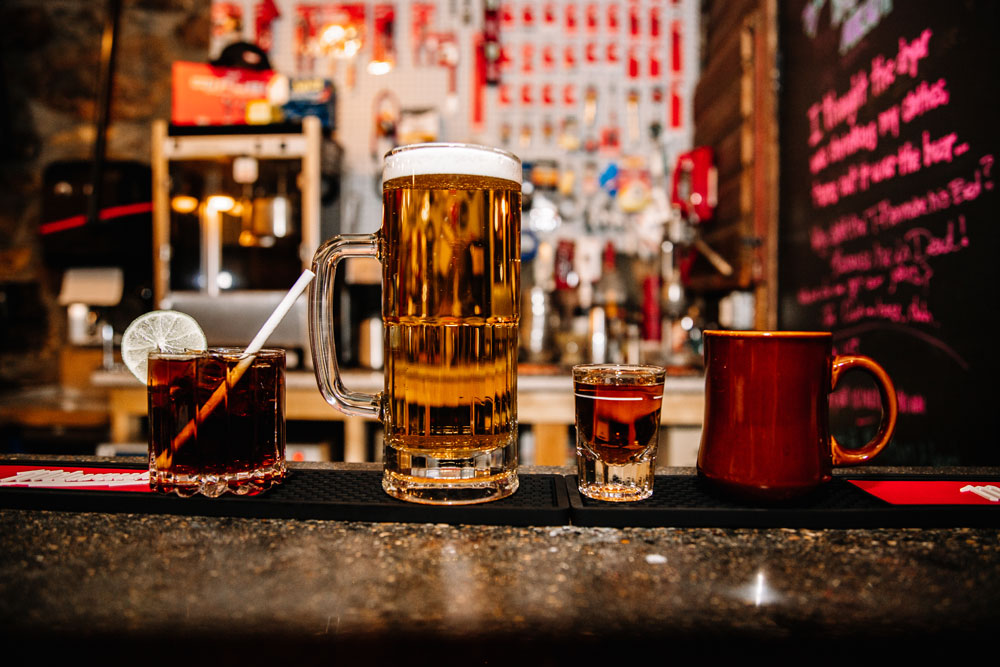 Every day the bar offers a 3-4-5 happy hour on every cocktail and draft beer—from three to four pm, drinks are $3; from four to five pm, drinks are $4; and from five to six pm, drinks are $5. "The 3-4-5 happy hour works really, really well. It keeps it super easy for the bartender and easy for the people who come in," says Lakoduk, who says the happy hour specifically targets local workers in the area. "We're very much playing to the Cheers vibe. I'd like to see that come back in hospitality culture where you stop in on your way home for a beer or two and not necessarily every day, but on the tough days, you stop at the bar and lean on your community and decompress before you go home."
Dad's doesn't offer much in the way of food (typical), but they do serve popcorn. Lakoduk is currently working with the local jurisdiction to change the city ordinance to allow them to sell food. In the meantime, he plans to put the hotdog stand he owns, Fun on a Bun, on the sidewalk in front of the bar all summer. The stand offers hot dogs, sausages, and grilled cheeses.
There's more to do at Dad's than just drink. Bingo is every Monday night, and the prizes are solidly in Dad territory with the bar giving away things like toothpaste, Motrin, laundry detergent pods, plastic cups, and chips and salsa. Trivia is every Tuesday, and Mom's Night is on Wednesdays with wine and happy hour specials all night for moms. The bar also occasionally hosts tastings and cocktail classes.
Dad's also hosts unique events like the pine car derby for adults and the Yard of the Week, which honors a truly award-winning lawn in the Minot area.
Dad also occasionally goes "out of town" and the staff throws a party. The themes have ranged from punk to emo to 80s. There is even a monthly "Dad's Birthday Party" for "dads" with birthdays that month that "insists there will be no party." "I remember going to a lot of people's houses in high school and going to garage parties when their parents were gone for the weekend. So we'll have weekends where I'll just stay in Saul's or very rarely pop into Dad's and it will be like Dad's out of town for the weekend, and the bartenders will do a take over," explains Lakoduk.
One of the unexpected consequences of having Saul's and Dad's next to each other is that people often come and go between the bars. "It's so wild to me because in all of my planning for this, I never anticipated how much people would enjoy going back and forth between the two," says Lakoduk. "I thought it would be like you pick your vibe and you stay there or, you're just a Saul's person or a Dad's person. But no, it's people back and forth all night."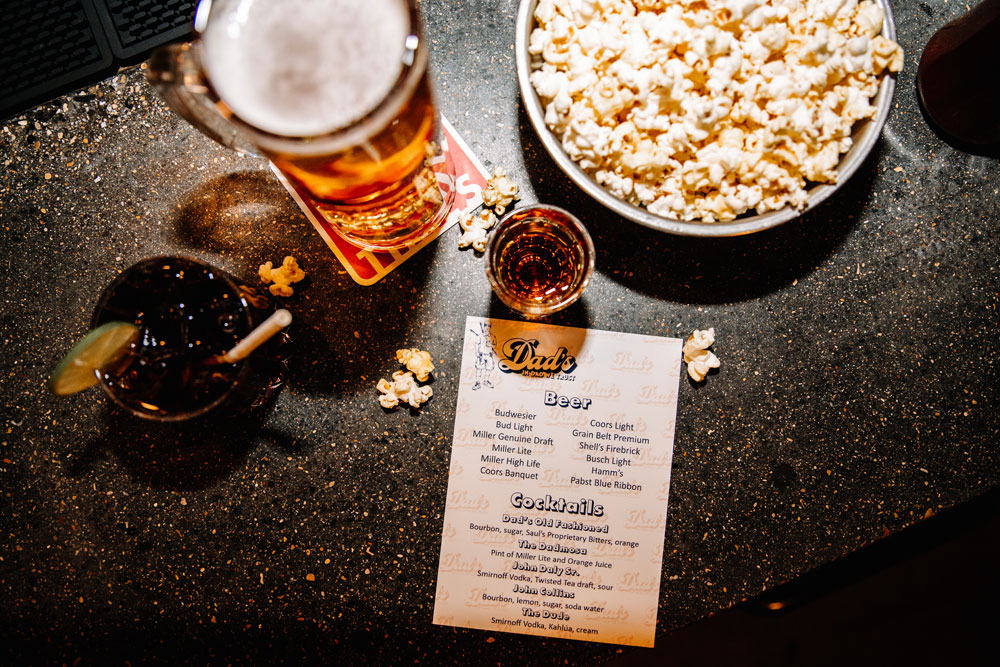 Lakoduk says having the bars adjacent to each other can also help with high-traffic nights, especially if Saul's is full. "We'll send them to Dad's, and say, 'Just go wait and get a beer and we'll come get you when we are ready for you," says Lakoduk. "So that's working out really well for us too."
In fact, the whole concept of Dad's Bar has been "working out" for Lakoduk, as the bar was nominated for the Bar & Restaurant Expo's Industry Excellence Awards for Most Original Concept this year. "It was a huge honor when I first found out we even got nominated and then to make it to the top three was mind blowing," says Lakoduk, who notes the nomination was especially important given that he's a single owner from North Dakota, who went up against bars from large hospitality groups with a lot more resources. "Don't be scared to try things. Some of the wildest, weirdest ideas are the ones that usually end up being the most successful."