Since Don the Beachcomber in Hollywood helped launch a wave of Tiki bars in 1933, these popular, themed cocktail establishments have been home to elaborate drinks, palm trees, Tiki masks and torches, along with other elements that create a relaxed, tropical island vibe. But as with all outdoor bars/restaurants, open-air versions of this Tiki-themed dining and drinking destination can also be home to occasionally undesirable conditions, such as wind, hot sun, rain, and unwelcome buzzing and flying visitors.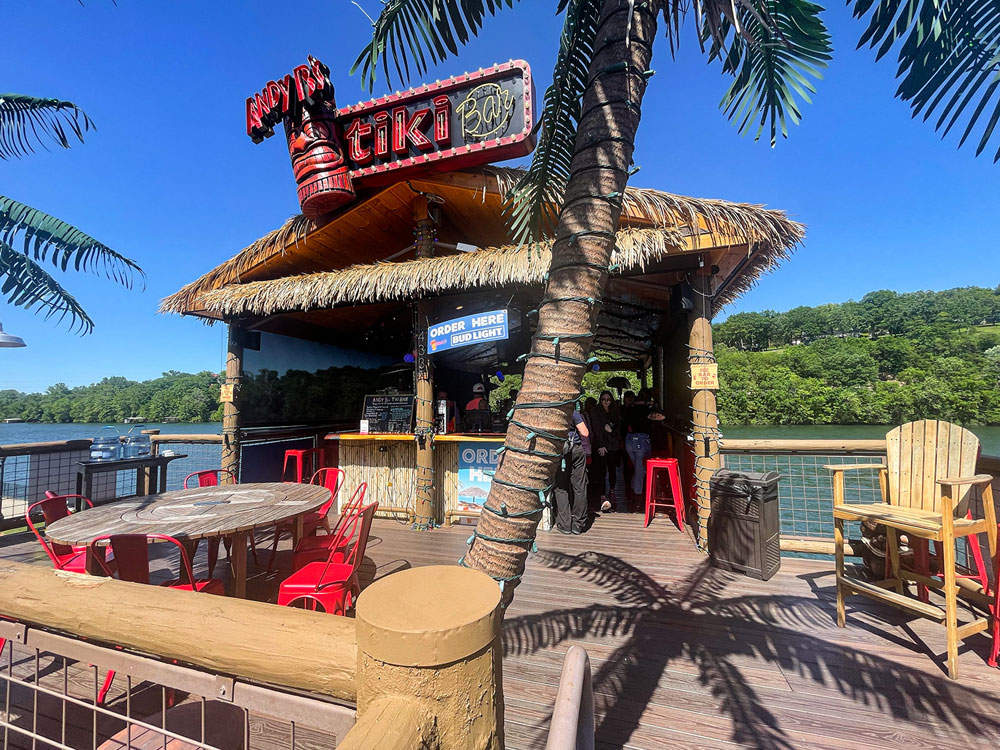 These factors that make the great outdoors less great are some of the reasons why the owners of Andy B's Tiki Bar at Branson Landing in Branson, MO decided to equip their grass-roofed restaurant with some of the most modern amenities available for today's outdoor dining establishments, including automated outdoor shades from PowerShades of Joplin, MO.
An Elemental Solution
Built in Branson Landing—a shopping and dining attraction in Downtown Branson—on a platform overlooking Lake Taneycomo, Andy B's is home to panoramic views and refreshing breezes.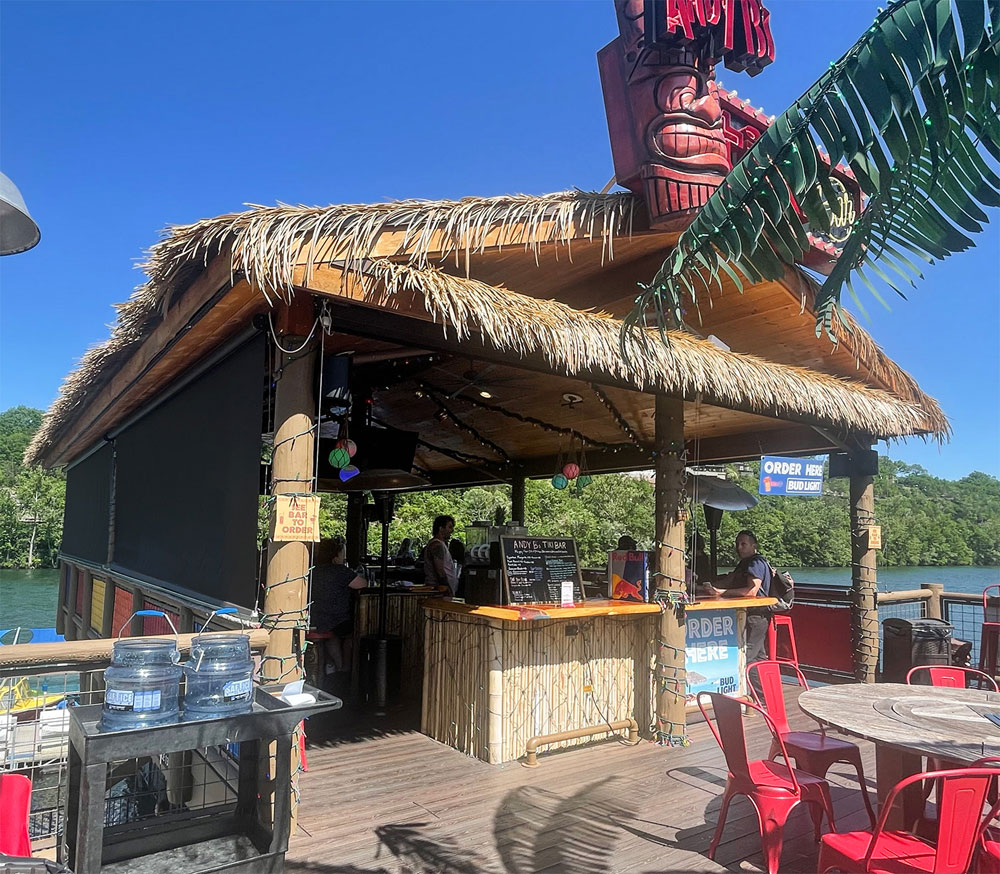 "When we opened the establishment a little over a year ago, we knew that in many ways we had an ideal location for a Tiki-themed destination," said Rick Huffman, CEO of HCW, LLC, developer of Andy B's Tiki Bar. "Of course, because our restaurant was on a platform that jutted out into the water, those breezes would occasionally turn into stronger gusts. This was one of the reasons why we began to investigate options for protective outdoor shades. We realized that the weather conditions could be detrimental to both the comfort of our customers, as well as our bottom line."
About six months after opening, Andy B's Tiki Bar has been outfitted with six large automated outdoor shades from PowerShades on three sides of the structure.
PowerShades is an industry-leading manufacturer of manual and automated shades for residential, commercial, and hospitality applications. What's more, the company has a good deal of experience using automated outdoor shades to transform open-air restaurants into more protected destinations for relaxing, socializing, and dining.
"The automated outdoor shades from PowerShades not only provide protection from the wind," Huffman said, "but also work to block the rain and hot sun, and they help to keep the restaurant bug-free in the evenings. The shades are attractive, as well as functional, bringing a sleek, modern but unobtrusive element to our restaurant's retro vibe. Plus, because they are automated, our manager and staff can use remote controls to raise and lower the shades as needed."
There are literally no strings attached.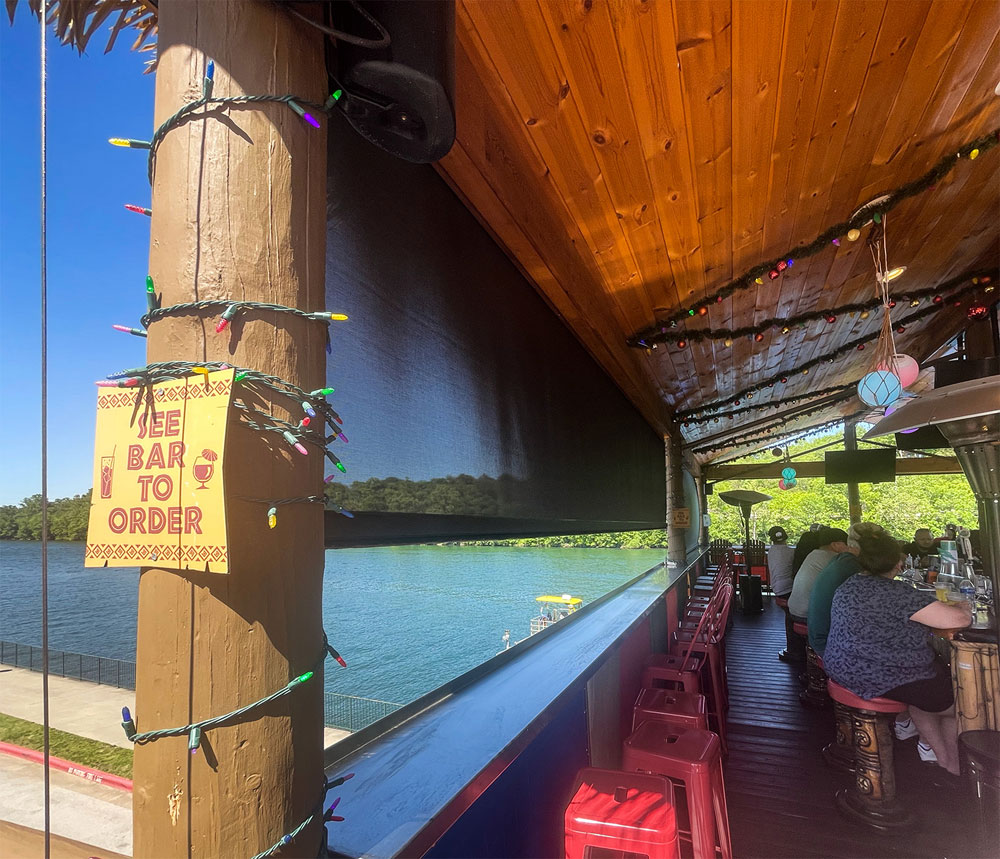 PowerShades Are Easy to Use, and Love
Huffman said his company's relationship with PowerShades goes back a little over two years, and during that time they've installed automated shades in many of their restaurants and hotels.
"We're using their automated shades in all of our restaurants now," he said. "plus we use their battery-operated shades in all of our hotels. The shades we installed at Andy B's are operating on regular 110 volt AC power. And with a PowerShades Gateway, the Tiki Bar can operate with the same automation features as the company's True PoE shades."
One such feature, which Huffman says Andy B's may take advantage of in the future, is that the automated shades can be programmed to rise and lower at set times of day or night to provide customers and staff with ideal lighting and temperature for the best ambiance and maximum comfort.
Comfortable With the Company, Too
Huffman also pointed out that working with the Joplin MO-based PowerShades was a stress-free experience, not only because of their location (close to Branson) but also because of the speed and quality of their service.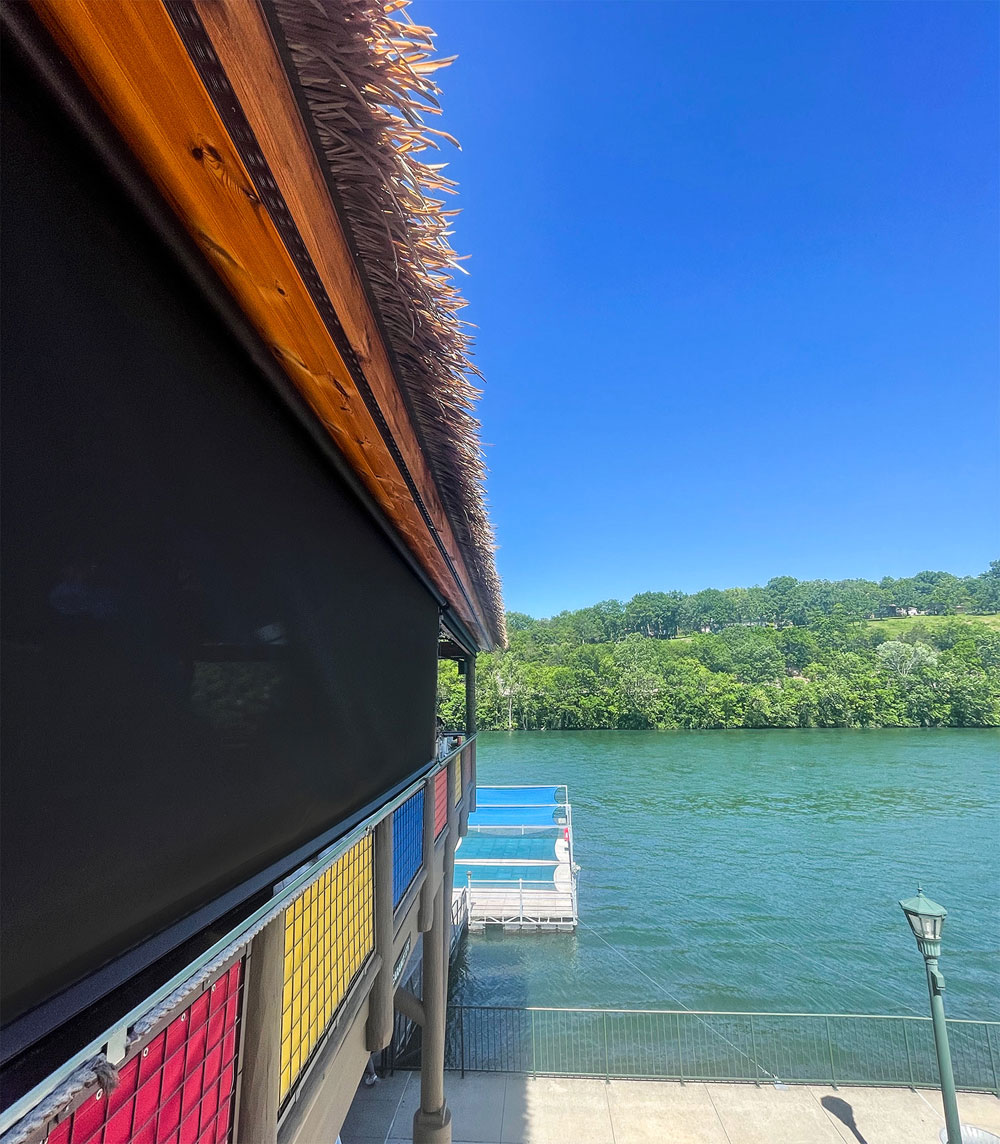 "A short time ago we had a serious wind storm that did some damage to one of the shades," Huffman recalled. "The service team from PowerShades was on location within a couple days; they reattached the shades to the cable guides, and the shades were back in action extremely quickly."
"PowerShades is an exceptional company," Huffman concluded. "We are using their automated shades all over the country, from hotels and apartments to fine restaurants and, of course, our much-loved Tiki bar."
You could say that Huffman finds PowerShades and their product to be a breeze to work with, even when the tropical winds begin to kick it up a little harder.