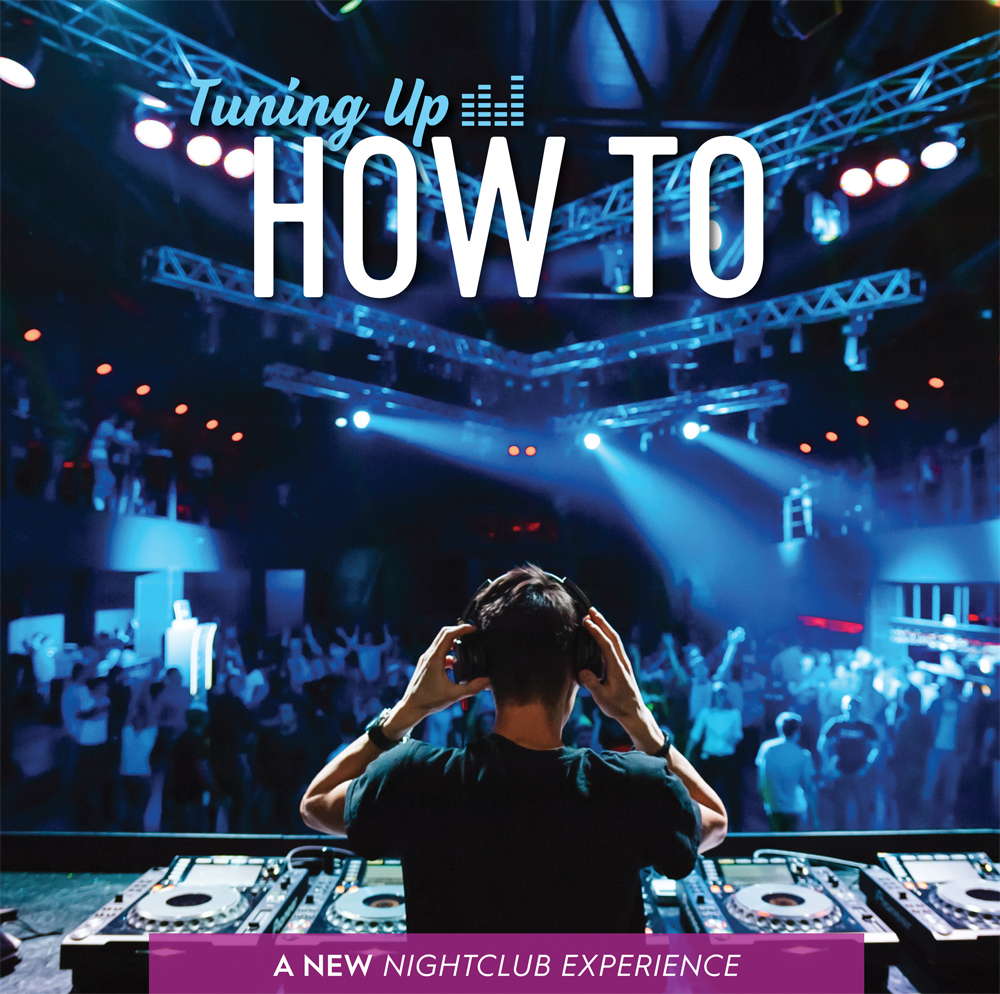 New lighting and sound system brings Las Vegas ambiance to Atlanta.
By Ashley Bray

W
hen District opened in a renovated warehouse back in July, it brought a full-service, never-before-seen nightclub experience to the Atlanta area with lights, dancers, and
a top-notch sound system that attracts national DJ acts.
Owner Donny Walloch sat down with Mario Auda, Owner of the House of Music, to bring his vision to life and discuss what he was looking for in sound production. The House of Music is a full sound, lighting, video, and staging company. The company first opened in 1995 as a DJ services and production business, and it has since grown into a full-blown production company. Auda and his business partner Jeremy Ladd have unique experience in the industry as they both worked as nightclub DJs for many years.
Walloch wanted to be a step above current nightclubs located in Atlanta, specifically in sound and lighting,
while competing for DJs that play on
a national level. Auda and Walloch first looked into new, branded systems. "Once we priced out a few brands, we then decided to look into used," says Auda. "We found it was actually less expensive to go with a slightly used d&b audiotechnik sound system than it was to go with a new system. Donny was also worried about the sound system not being up to par with national DJ's riders. Once we told him that this D&B sound system would meet all riders, he was sold.
"This type of system, even if it's used, it's not like you're buying something cheap. People who have this kind of equipment take care of it," explains Auda. "So we were able to afford it by buying it used and it came in great condition."
To find a used d&b audiotechnik sound system, House of Music contacted GearSource®, which sells mostly used professional stage lighting, and pro audio, video, and staging products. "If a bar is looking to save money, that's where we come in because we sell a lot of used gear. A lot of bars are on tight budgets, especially if they're upgrading their facility. Or someone new takes over a bar, and they want to put in a new system because the system that has been in there has been there for 15-20 years, which is very common in a lot of existing bars these days," says Steve Smith, Business Development Rep for East Coast, Africa, and Middle East at GearSource. "For the bar owner that wants better quality sound, which again will attract better quality acts into their room, they can come to us. We have just about every manufacturer across the board whether it be domestic, US manufacturers like JBL or EAW or some of the more exotic European brands like d&b, L-ACOUSTICS, and Martin Audio."
Smith says that bar and nightclub owners shouldn't be afraid to source used gear from overseas, which oftentimes, can be in better condition. "We find really good gear, we offer a turnkey solution so when we bring it in, they don't have to worry about any of the importing, any of the freight forwarding, any of the customs, or any of that. We handle that all. We have freight forwarders that we work with so that it's a door-to-door delivery," explains Smith. "And when you import, your duties on gear like this is only about 4-6%, whereas paying sales tax in most states is more than that. You're actually getting a better deal on the tax end of it by importing it."
When working with GearSource, vendors must also guarantee at least a 48-hour warranty from the time the gear is received. "Sometimes vendors will give additional warranties depending on the gear," says Smith. "And if anything should be wrong with the gear, we intervene and get back in touch with the vendor. It's the vendor's responsibility to make good and either replace the item or take care of having it repaired locally."
For District, the d&b audiotechnik system, which is one of the top live production/sound manufacturers in the world, was sourced from Europe and took about a month to come in. "To have one of the top two companies represented in a club is just an amazing thing because no one will turn down wanting to play in that room," says Smith. "A lot of clubs these days tend to want a wow factor, and they all have seen or heard of what's going in Las Vegas.
"But of course when you're in smaller markets, a lot of people think they can't afford that wow factor. It's affordable to a lot of clubs if they just leave it up to the integrator that's going to help put that system in the club."
District's system included: (8) D&B Q7 cabinet EP5 connector; (12) d&b Q1 cabinet EP5 connector; (4) d&b MAX cabinet EP5 connector; (6) d&b QSUB cabinet EP5 connector; (13) d&b D12 amplifier EP5 connector; (2) Q1 flying frame Z5159.000; (2) Q flying adaptor for maximum 3 x Q1 Z5156.000; and (6) d&b B2 Subwoofer (from two different vendors).
Before starting the installation, House of Music had to wait for the club to secure permitting and for the renovations to be ready for the sound system. "Once we had the system and we were ready to start the install, it probably took us about a month's worth of time to go in and do the wiring," says Auda. "Once we finished the wiring, we had to wait for them to finish and close up the walls and get to a point where they were done with the main construction part before we came in and actually hung the speakers, hung the system, installed the amps, and put it all in."
House of Music used Q1 Boxes for the main hangs, side, side hangs, and delays. They used Q10's for the rear fills and six B2's for the lower end. The monitor system (what the DJ actually turns up and down to be able to listen to and mix his music) consists of two Q1's per side and four Q-subs. Twelve D12 amps drive the entire system.
"Chris Davis was our d&b tech and did a wonderful job with the tuning," says Auda. "The amps are all located in a display to the entrance of the dance floor."
The DJ booth required special consultation. "We consulted with the contractor and had him build the DJ booth because the subs are actually underneath them," explains Auda. "We had him build it out of all concrete. We had it constructed to a certain size so when we were ready to put the subs in, they just slid right in and then they built around them. So if we ever need to get to them, it's not difficult to go in and service them."
House of Music also used GearSource to purchase a grandMA2 Light, which controls all the lights and effects. They also put in 350 ORBISFLY™ LED Kinetic lights in the ceiling. "They're actually LED bulbs that have a winch on them so they move up and down, and then you can run them in different colors, in patterns, or even put video through it. The whole ceiling really comes alive once it starts moving," says Auda. "It's something completely different than what most people have seen. Matter of fact, when they first turn it on, most people just stop and start staring at the ceiling."
Lighting Designer Tyler Nadue designed the lighting system with the help of Max Kaplin in programming.
House of Music taught one of District's staff members how to turn the whole system on and off and how to use it. "If they have anything different coming in there other than they're regular DJs, like a national act, we'll bring in one of our sound engineers to run it," says Auda.
The system has proven to be a success, and even national acts are impressed with its quality. "The first national act they had in there was a DJ named Cazzette, and he was very impressed with the monitor sound systems and the way it sounded," says Auda. "That was good news for the club when they heard that coming from him as a national act."
---
Want to stay up to date between issues? Subscribe to our newsletter.