PPDS, a global leader for innovative display solutions for businesses, is excited to announce the availability of its highly anticipated range of Chromecast built-in and Crestron-Connected certified B-Line Ultra HD pro TVs.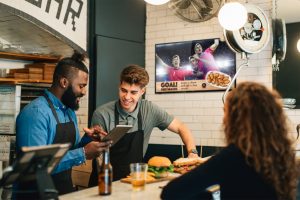 The new Philips B-Line range is PPDS' most advanced, flexible pro TV line to date, equipped out of the box with extensive, dedicated collaboration features and capabilities, making it the ideal all-in-one solution for the food and beverage industry, including bars, restaurants and kiosks.
Available in 50", 58", 65", 70", and 75" models, the new B-Line series opens a plethora of opportunities for businesses looking to improve and streamline their digital communications.
Combining the latest UHD display technology, powered by Android and Google and Crestron-Connected, B-Line offers unrivalled seamless content sharing and presentation capabilities, with its effortless content creation and scheduling tools, plus TV Tuner, making B-Line a perfect experience-enhancing addition to any food and beverage business.
Solving historic frustrations / Overcoming obstacles
Harnessing the power of Android P, Crestron Connected and built-in Chromecast, content (in up to 4K) can be created and wirelessly shared from any device – including laptops, tablets, smartphones, and/or a corporate server. Meanwhile, HDMI Hotplug detection caters to wired connections with auto-switching between connected devices.
Running on the latest Android P software and with a TV tuner, B-Line displays provide instant access to a wide range of apps and services via Google Play and can be upgraded as and when updates are released, stretching investments and extending lifetime.
Whether one TV or a thousand across multiple-location, B-Line displays come readily equipped with PPDS's end-to-end solution, CMND, providing IT managers and staff full remote management and control of all TVs, including what's being displayed, troubleshooting, and updates – all via a single, easy-to-use interface.
Scheduled or ad-hoc messaging can be created and displayed quickly, including ads for upcoming events, changes to menus, and important venue information. "As venues reopen, it's important to ensure customers are comfortable, entertained, and now more than ever, well informed at all times," commented King. The ability to schedule content and respond immediately to the conditions – such as an impromptu reminder around social distancing or, half-price drinks if the local team on TV wins – are all possible with B-Line."
Joe King, vice president, PPDS, North America, said: "At PPDS we're committed to helping businesses solve and overcome their everyday obstacles in order to be the best they can be. Technology should always be an enabler, serving to maximize the impact of what you are trying to achieve – not get in the way. With Philips B-Line, we're helping businesses be better."