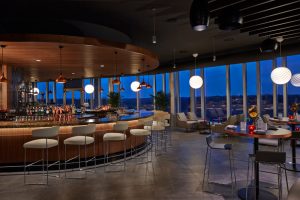 VASO comes from the Spanish word for "cup," and you could say that the bar's cup has been running over since it opened in late 2017.
In fact, VASO's success in its first six months doubled forecasted sales. "We were the only rooftop bar in Dublin, so when we opened, people wanted to see Dublin from the highest point in the city," says General Manager Orcun Turkay. "There's nothing like it in central Ohio."
While its location definitely contributed to its success, VASO also seemed to hit on a need for a craft cocktail bar in the Dublin community. "The cultivation here was so unique to the area," says Beverage Manager Rebecca Monday. "It's such a one-of-a-kind experience for Dublin. Craft cocktails, tapas, you're on a rooftop—it checked off this list of firsts across the board."
Filling a void in the local hospitality market has also allowed VASO to become a community staple, despite it technically being a hotel bar since it sits atop the AC Hotel Columbus Dublin. Turkay estimates that only about 20% of its patronage comes from the hotel, while the rest is local business.
Founder Antonio Catalan started the AC Hotel brand in Spain before Marriott International launched it globally, and VASO pays tribute to the hotel's Spanish roots in its concept.
"We decided it was going to be a Spanish tapas bar. The tapas concept fit us perfectly because it's a bar environment, and we didn't want to serve large entrees. We wanted it to
be playful where people come and experience multiple dishes," says Turkay. "In everything that we do, we always keep the concept in mind."
This includes the design and aesthetic, which changed from the original plans when it was decided that VASO would have a Spanish tapas theme. The bar brought in a local interior designer to redraft the design plans to better fit the concept. "It was a collaborative effort between the interior designer, myself, and other executives at the ownership," says Turkay. "We came together and did all the changes, and obviously that cost us some extra money, but now looking back it was probably one of the best decisions we made. Architectural Digest named us the most beautifully designed bar in the state of Ohio, so I think we did something right."
The design distinguishes the bar from the rest of the hotel through pops of color. "The hotel itself is very neutral colors—a lot of gray, a lot of beige," says Turkay. "But we wanted a transformation as soon as you walk into VASO."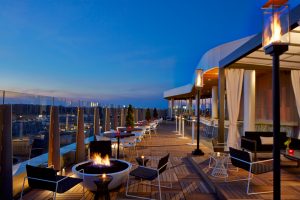 Orange terracotta floors, copper light fixtures and table edges, red candles, and red and green backdrops in the cabanas on the outside patio all lend color throughout. "Our cocktails, the food, the plates, and the glassware is very colorful too," says Turkay.
Also adding to the design is an interior white accent wall featuring green palm fronds and wood deck flooring on the patio with an asymmetrical design for visual interest. Fire pits and tall torches create a warm ambiance out on the patio.
Come October, large, colorfully lit igloo structures become a part of the patio, allowing the bar to make use of it year-round. "In our first year, we were looking at ways of activating the patio in the wintertime," says Turkay. "We ended up adding three igloos right outside the glass where people can see from inside."
The igloos are warmed by heaters and allow patrons to dine al fresco (or as close as you can get) in the winter season. "We also offer blankets for when you're in the igloos and warm batch cocktails like hot cocoa and teas," says Monday. "There's definitely a warm environment even though you're sitting in the middle of winter and snow is around you."
Due to last season's high demand, this winter VASO has expanded to five igloos. "It was insanity," says Turkay, who says the bar received over 1000 phone calls in two-three days after local media ran stories on the igloos. "The igloos were booked for three months straight every day. We had 10-12 reservations every day, including Sundays."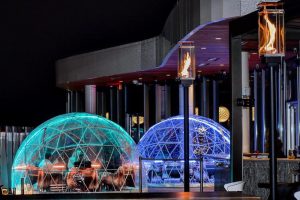 It's safe to say that VASO has created a big buzz in Ohio, but the bar has national aspirations as well. It's hosted pop-ups in Chicago, in New York City, and at Tales of the Cocktail in New Orleans. This year, it was even a top 10 finalist for Tales of the Cocktail's Spirited Awards for Best Hotel Bar in the Central USA.
"There's a lot of effort that we're putting out there for VASO to not only be known in Columbus or Ohio, but nationwide," says Turkay. "We want to push the great things that are happening in Ohio."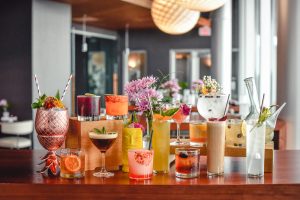 A big part of this national push was a revamped cocktail menu with Monday at the helm. "We said we're going to be the best of the best, we're going to be a cocktail bar, so we went from six cocktails to 13 cocktails on the menu. We're showcasing seasonality, locality, freshness, housemade, and my team as well," says Monday. "I encouraged my team to do a lot of R&D and homework. I gave them all inspiring ingredients, and we did a day where we created and crafted. Then we sat down, found our best cocktails, and put them together on the menu."

The menu rotates quarterly, but it features some staples that are nods to the bar's Spanish inspiration. For example, Spanish-style gin and tonics are served in a large goblet and garnished with seasonal fruit and flora. Sangria is also available in a glass or in a porron, which is a traditional glass wine pitcher typically found in Spain.
"While [Spain] is an influence, it's not our main focus because we do want to stay relevant with trends," says Monday. "One thing that we're doing that I've found to be very trendy right now is offering cocktails that are non-alcoholic. We've been using a non-alcoholic spirit called Seedlip in our Spanish G&T."
The bar also serves trending and unique spirits like Armagnac, which features in the cocktail The Discussion (Armagnac, oloroso sherry, sweet vermouth, blackberry, plum shrub), and mezcal, which can be found in cocktails like The Botanist (purple carrot sea salted mezcal, tarragon agave, citric acid, carrot fronds).
"Education is key, and we built this menu so that when our guests come in, if they're not familiar, we're able to educate them and hopefully introduce them to a new spirit," says Monday.
A collection of beer (including local Ohio varieties on draft) and wines are also available.
Of course, Spanish influences can also be found on the food menu, which is put together by Chef David Belknap, who recently returned to his native Columbus after stints at establishments that included the Ritz Carlton and Thomas Keller's Per Se.
"The entire food program is inspired by Spain. Not only Spain, but any place that has been influenced by Spanish culture," explains Turkay.
The menu includes items like ceviche, empanadas, scallops (pictured below), a variety of tapas, and a section of selections built on bread, such as Coca con Puerco (braised pork flatbread, roasted garlic, pickled peppers, Manchego, and corn purée). The menu changes at least twice a year to keep it fresh and relevant.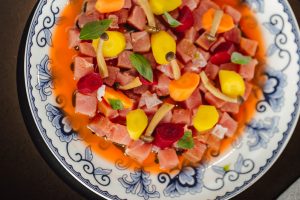 VASO also keeps things fresh with events throughout the year, including live music, holiday parties, and a recurring Sip & Stretch yoga and brunch event on Saturday mornings in the spring and summer. Patrons can also rent out the space for private events.
By Ashley Bray
All Photos: VASO at the AC Hotel Columbus Dublin