GN Chan's years-long dream of opening a brick-and-mortar location for his bar concept, Double Chicken Please, finally became a reality in November 2020.
It may be Chan and his co-founder and business partner Faye Chen's first bar, but they are no strangers to the industry. Chan is a veteran of The World's 50 Best Bars' Mace and Angel's Share and a Bacardi Legacy Global Champion. Chen is an alumna of The World's 50 Best Bar's Speak Low (Shanghai) and a Bacardi Legacy China Champion.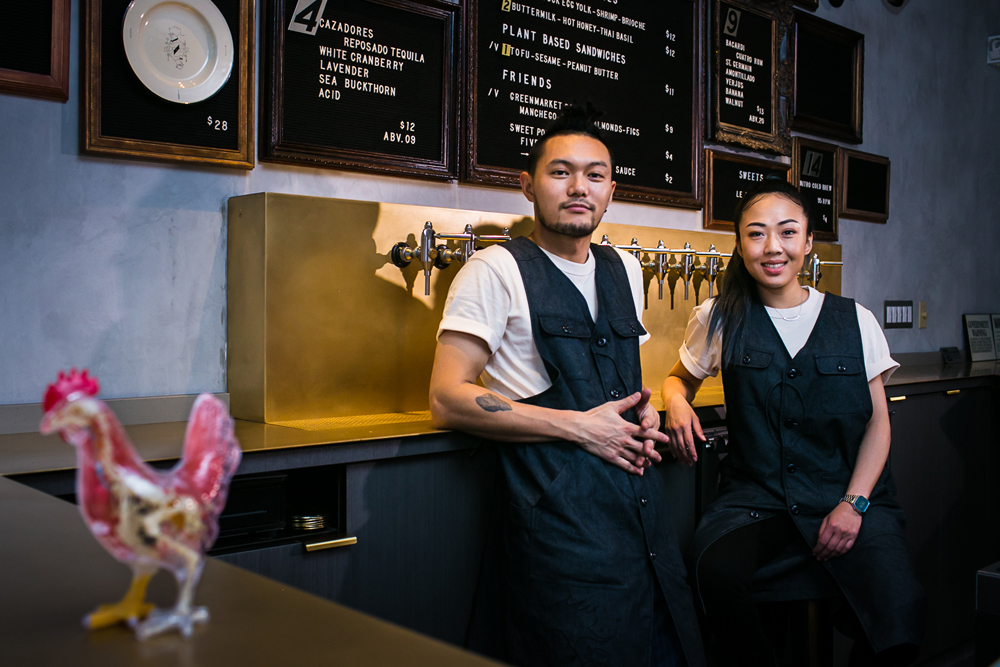 Chan says all of the accolades have only driven the duo to work harder and keep growing. They also gave them a stubborn determination to make the bar a reality. "Opening Double Chicken Please is a dream come true and the culmination of many years of hard work, experimentation, and persistence that even the pandemic couldn't stop," says Chan. "Faye and I are excited to share our liquid creations with thirsty New Yorkers and eventually, with travelers from near and far."
Double Chicken Please (the name is a nod to Chan and his best friend's "chickenish" Mandarin nicknames "Chicken Filet" and "Turkey") started as a mobile pop-up bar when Chan's original plans to open a brick-and-mortar location fell through in 2018.
The pop-ups were hosted in a sunny yellow 1977 Volkswagen camper with a bar top made from a repurposed skateboard. The camper took Chan and Chen all around the country and enabled Chan to combine his love for travel and cocktails. In total, the mobile bar logged 10,000 miles across the U.S. and 1,200 cocktails before the concept found a permanent parking space at 115 Allen Street on the Lower East Side of Manhattan.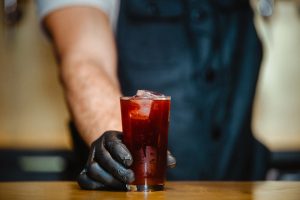 Chan and Chen revived the VW pop-ups (on a smaller scale thanks to COVID-19) at Patisserie Fouet in Greenwich Village and Hunky Dory in Brooklyn to create excitement ahead of the brick-and-mortar's November 2020 grand opening.
It's hard to open a new bar at any time, but especially during a worldwide pandemic, and Chan acknowledges the difficulties of the last few months. "To open during a pandemic is really challenging, but the team tries to focus on our opportunities not the problems we're having right now," he says. "We try to utilize this downtime to train people, to come up with new ideas, to do R&D, and to make sure we can constantly produce something new, something fun."
Although the establishment offers takeout and delivery, the closure of indoor dining in New York City also exacerbated challenges.
When indoor dining reopened in New York City in mid-February, the inside of Double Chicken Please was big enough to easily seat groups far apart. Chan has also put up dividers to aid in social distancing and installed a ventilation system that meets state requirements. He has also installed industry equivalent air filters in all HVAC systems.
"We are taking this very seriously and doing whatever we can," says Chan. "We are paying scrupulous attention to hygiene protocols and social distancing to ensure that our team and guests stay safe."
In the midst of all of the COVID-19 regulations, Double Chicken Please is not losing sight of the importance of the guest experience and the environment they attempt to create within the bar.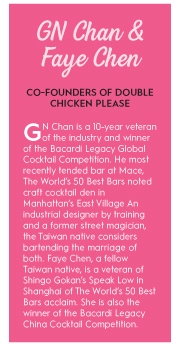 "The spirit of Double Chicken Please is making people laugh and making people happy," says Chan. "Our hospitality should make people feel like they're coming to visit us at our home. So everything we do is based on that."
And that includes the design. Double Chicken Please is split into two rooms. The back room's design gives the impression of walking into someone's home for a visit. It includes a large kitchen counter and a semi-open kitchen and living room. There is no back bar and no bottles in view—only art, collectibles, and mid-century modern furniture and aesthetics, many of which were made in and shipped from Taiwan. Craft cocktails and pairings are the focus of the menu.
The front room is more casual and fast paced. All the drinks are on tap, and snacks and chicken sandwiches are offered up on the food menu.
The entire two-room concept pays tribute to a bubble tea shop from the Taiwan neighborhood where Chan grew up. The shop had a design studio in the back, and as a high schooler, Chan would stare into the studio with its colorful Macs and dream about becoming a designer.
Chan eventually studied industrial design in school and originally had plans to make Double Chicken Please a design studio before happening into the bar industry. But that doesn't mean there aren't plenty of design influences to be found on the menu and all around the bar.
In fact, one of the guiding principles of the bar is the concept of "hacking design," where cocktails and food are deconstructed, redefined, and rebuilt in a new way.
For example, on the back room's menu, Double Chicken Please deconstructs the idea of the pairing—typically reserved for wine and food—and expands it to cocktails and food.
"On the menu, you will see New York Beet Salad paired with a Clover Club," says Chan. "One is a very popular dish in lots of restaurants in New York, and the other one is a very classic cocktail. When you order it and receive it, the drink is actually inspired by the salad, and the bites that come with the drink are inspired by Clover Club. So you are drinking your food and you are eating your drink."
In the front room, Double Chicken Please offers seven on-tap cocktails identified by numbers and featuring unique, culinary-focused ingredients like seaweed, longan, makrut lime, sea buckthorn, and verjus.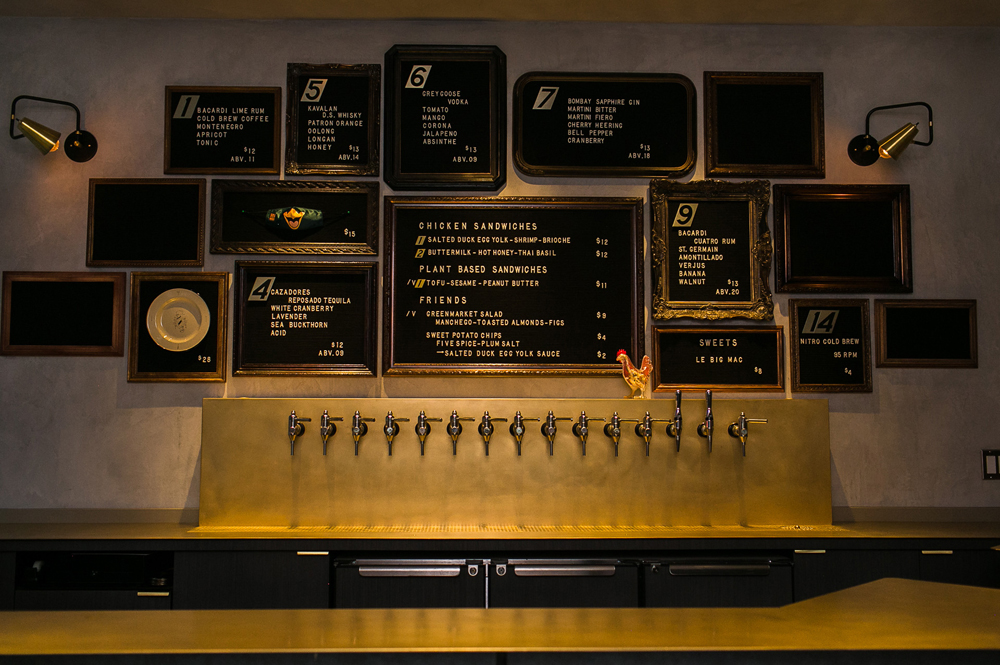 "We do some R&D to make sure [the cocktail] fits in the tap system because to make tap drinks it's a different logic than to make craft cocktails," says Chan.
On-tap cocktail #5 is a twist on a whiskey highball and includes Kavalan Distillery Select Single Malt Taiwanese Whisky, Patrón Citrónge Pineapple Liqueur, oolong tea, honey, longan, and soda. #7 is an ode to a Negroni featuring Bombay Sapphire Gin, Martini Fiero, Martini Bitter, Cheery Heering Liqueur, red bell pepper, and cranberry.
Double Chicken Please keeps the cocktails very affordable for the Lower East Side at $12 to $14 thanks to the tap system. "It's almost like a happy hour everyday," says Chan.
Chef Mark Chou, a veteran of Eleven Madison Park, Le Bernardin, and Blue Hill, helms the culinary program. The menu in the front room includes Asian-inspired bar snacks like Sweet Potato Chips & Dip, which is a blend of crispy orange and purple sweet potatoes and Korean yams seasoned with five-spice & plum salt with an optional salted duck yolk purée sauce.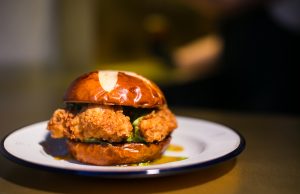 The establishment has become known for its chicken sandwiches that feature additions like hot honey, thai basil, and salted duck egg yolks. The original plan was to keep the sandwiches super casual, but Chef Chou's fine dining background ultimately influenced the menu. "So now we actually do everything slightly more finer than we expected," explains Chan.
Another popular item is the fun and unique dessert Le Big Mac Ice Cream Macaron Burger, a "cheeseburger" comprised of an almond macaron ("bun"), housemade chocolate ice cream with mochi ("patty"), sesame sponge cake ("cheese"), and strawberry jelly ("tomato").
Chan says he hopes to continue to innovate and constantly create new things as Double Chicken Please evolves. Above all else, he encourages his team to keep guest service at the front of mind. "The coolest thing in the world is when we are making people happy while we are having fun," he says.
By Ashley Bray
Photos: Sahid Limon, @mistamoni