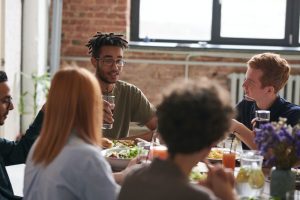 Creative visionary and jewelry designer Bliss Lau and St-Germain Ambassador Earlecia Gibb are teaming up for Moment du Jour: Storia d'Amore" – a social media initiative aimed at inspiring upscale date nights in during quarantine.
Beloved by many, the quintessential summer spritz is getting an upgrade thanks to this unexpected duo, who are teaming up to create a collection of bespoke recipes for summer date night. Drawing inspiration from French aperitif culture and Lau's visionary approach to design, these specialty cocktails are simplistically chic, featuring subtle details – like a gold flaked rim – to celebrate life and love during this unprecedented time.
The four-week video series, a creative collaboration with St-Germain liqueur, will debut this Saturday, May 30 as an extension of the liqueur brand's social initiative to help redefine and elevate daily rituals while social distancing. As an evolution of the NYC-based designer's visionary approach to storytelling through her one-of-a-kind pieces – which are beloved by celeb clientele including none other than Beyoncé, Rihanna and Naomi Campbell, to name a few – the upcoming series draws creative parallels between Bliss' namesake brand and St-Germain, highlighting unique pieces and heirloom gemstones sourced from around the world paired with a collection of bespoke cocktails to celebrate the beauty of life, love, and joy during this unprecedented time.
Recipes:
Gilded St~Germain Spritz
1 ½ oz St~Germain French elderflower liqueur
2 oz Dry Sparkling Wine
2 oz Sparkling Water
Dash of edible gold powder
Build in glass over ice, dash of power, stir in
Expressed lemon- garnish
Myrtille Spritz
Ingredients:
1 ½ oz St-Germain French elderflower liqueur
1 oz Blueberry cinnamon syrup
¼ oz Lemon juice
3 oz Chandon Brut sparkling wine
Cinnamon sticks and lemon twist for garnish
Directions:
Combine all ingredients apart from the wine, shake until ice cold, strain over fresh cubes in a wine glass, top with sparkling wine.