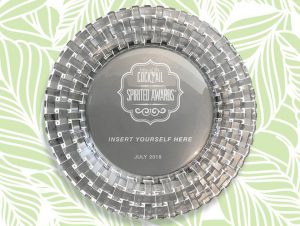 Following an impressive pool of nominees and months of deliberation from a global panel of renowned judges in the spirits and cocktail industries, Tales of the Cocktail Foundation is honored to announce the winners of the 12th Annual Spirited Awards®.
The 2018 class of winners has been recognized amongst peers and supporters tonight at the awards ceremony hosted at the Orpheum Theater in New Orleans during Tales of the Cocktail. In addition to the winners selected by judges, Tales also has awarded the Helen David Lifetime Achievement Award to John Lermayer.
"As someone who has been on the other side of the Spirited Awards and has been nominated over the course of many years, I know how significant it is for an owner, operator, bartender, or spirits professional to be recognized by his or her peers," said Neal Bodenheimer, Co-Chair of Tales of the Cocktail Foundation. "Congratulations to this year's winners who represent a global group of talent setting the bar incredibly high for our industry."
Since its establishment in 2007, the Spirited Awards® have grown to become one of the most prestigious and coveted honors in the industry. Recognizing writers and brand ambassadors alongside bartenders and bars, the Awards showcase the talent found throughout the entire spirits community. Winners have been selected by a panel of over 140 industry experts, led by Charlotte Voisey (Spirited Awards Chairperson), Jacob Briars (International Spirited Awards Chair), Paul Clarke (Writing Chair), Bridget Albert and Kiowa Bryan (U.S. Judging Chairs), and Daniyel Jones, Lauren Mote, Claire Warner, Giuseppe Gallo, Micaela Piccolo, Zdenek Kastanek, Kurt Schlechter and Rebecca Sturt (International Judging Chairs).
"Very special congratulations to all of the winners of the 2018 Spirited Awards," said Charlotte Voisey, Director of Brand Advocacy for William Grant & Sons and Chairperson of the Spirited Awards®. "We celebrate your success but are also grateful for the excellence and inspiration you generate to the industry through your bars, teams, people, products, books, broadcasts, and journalism."
While every award that is presented carries a high level of prestige, the final award of the night is always the most sought-after. The World's Best Bar award compiles the gross votes for both American and International finalists in the following categories: Best  High Volume Cocktail Bar, Best Hotel Bar, Best Restaurant Bar, Best Cocktail Bar and World's Best Cocktail Menu. From this incredibly competitive pool of finalists, The American Bar at The Savoy London will be taking home the signature Riedel Crystal Trophy and the honor of being recognized as the best in the world.
The sponsors of the 12th Annual Spirited Awards® are The House of Angostura, Bacardi US, BarSmarts, Cocktail Kingdom, Fairmont Hotels & Resorts, Pierre Ferrand Cognac, William Grant & Sons, Gra'it Grappa, Italicus, Japan Sake and Shochu Makers Association, Mandarine Napoleon, Maverick Drinks, G.H. Mumm, Peroni, Pernod Ricard USA, Rutte, VinePair and Woodford Reserve.
2018 Spirited Award® Recipients:
American Categories
Best American Bar Team
Presented by William Grant & Sons
Sweet Liberty Drinks & Supply Co., Miami, FL
American Bartender of the Year
Presented by Bacardi USA
Yael Vengroff, The Spare Room, Los Angeles, CA
Best American Brand Ambassador
Presented by VinePair
Anne Louise Marquis, Campari America
Best American Cocktail Bar
Presented by Pernod Ricard USA
Lost Lake, Chicago, IL
Best American High Volume Cocktail Bar
Presented by William Grant & Sons
The NoMad Bar, New York City, NY
Best American Hotel Bar
Presented by Bacardi USA
The Broken Shaker Miami at The Freehand, Miami, FL
Best American Restaurant Bar
Presented by Woodford Reserve
Clyde Common, Portland, OR
Best New American Cocktail Bar
Presented by Pierre Ferrand Cognac
Navy Strength, Seattle, WA
International Categories
Best International Bar Team
Presented by The House of Angostura
The American Bar, The Savoy, London
International Bartender of the Year
Presented by Bacardi USA
Joe Schofield, Tippling Club, Singapore
Best International Brand Ambassador
Presented by G.H. Mumm
Ian Burrell, Global Rum Ambassador
Best International Cocktail Bar
Presented by Pernod Ricard USA
Happiness Forgets, London
Best International High Volume Cocktail Bar
Presented by Rutte
The Clumsies, Athens
Best International Hotel Bar
Presented by Japan Sake and Shochu Makers Association
The American Bar, The Savoy, London
Best International Restaurant Bar
Presented by Mandarine Napoléon
Sager & Wilde, London
Best New International Cocktail Bar
Presented by Pierre Ferrand Cognac
Coupette, London
Writing Categories
Best Cocktail & Spirits Publication
Presented by Tales of the Cocktail Foundation
The Daily Beast, Half Full Section
Best Cocktail & Spirits Writer
Presented by Fairmont Hotels & Resorts
M. Carrie Allan, The Washington Post, Imbibe, and more
Best New Cocktail or Bartending Book
Presented by Gra'it Grappa
Meehan's Bartender Manual by Jim Meehan
Best New Book on Drinks Culture, History or Spirits
Presented by Cocktail Kingdom
By the Smoke and the Smell by Thad Vogler
Best Broadcast, Podcast or Online Video Series
Presented by Tales of the Cocktail Foundation
Life Behind Bars
Global Categories
Best Bar Mentor
Presented by BarSmarts
Andy Seymour, Liquid Productions
Best New Spirit or Cocktail Ingredient
Presented by Maverick Drinks
Del Maguey Single Village Mezcal Jabali
World's Best Cocktail Menu
Presented by Peroni Dandelyan, London
World's Best Spirit Selection
Presented by Tales of the Cocktail Foundation
Sweet Liberty Drinks & Supply Co., Miami, FL
World's Best Bar
Presented by Italicus
The American Bar at The Savoy, London
Helen David Lifetime Achievement Award
Presented by William Grant & Sons
John Lermayer