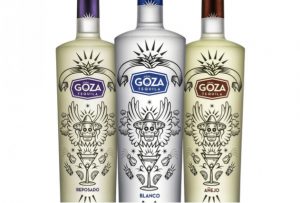 Atlanta's Goza Tequila's Añejo has taken top honors at the Spirits of Mexico Competition.
Goza Tequila is a startup quickly pushing its way up through the spirits community. In last year's Spirits of Mexico competition, Goza's Añejo won Best in Category, while its other two expressions were similarly recognized for their excellence, with Goza Tequila Reposado taking a SILVER award, and Blanco receiving a BRONZE award.
The Spirits of Mexico Competition is a blind taste test in which ten tequila aficionados had one month to sip and savor 52 products, rating them on their aroma, flavor, finish, value and more.
Launched in 2015, Goza Tequila is now available throughout Georgia, New York, South Carolina, having most recently launched in Texas.
Founded by Jacob Gluck and Adam Hirsch, Goza Tequila has focused on shaping the brand around an everyday simple lifestyle that enjoys quality above all else. Breaking the barriers of premium tequila brands, Goza aims to transform Tequila from being more than just a Taco Tuesday classic, into an everyday spirit.
"Goza is inspired by its Spanish meaning 'to enjoy.' We wanted to break down the barriers of premium tequila by providing taste and quality at an affordable price," says Jacob Gluck, CEO of Goza Tequila. "Goza is about being yourself, and our goal is to create a positive lifestyle around inclusivity and a sense of independence. We have been able to change the way people think about tequila. Anytime people try our tequila, they are blown away about how versatile and smooth it tastes. No bite at all."
As for a signature cocktail, Gluck recommends mixing up a Goza Old Fashioned made with their award-winning Añejo—a tequila twist on the classic whiskey drink. "It's one of our most popular cocktails, and die-hard mixologists love experimenting with our product," says Gluck.