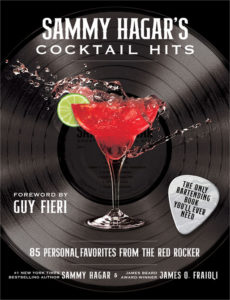 Sammy Hagar's Cocktail Hits: 85 Personal Favorites from the Red Rocker, the third book by legendary rocker, spirits trailblazer and #1 New York Times bestselling author, Sammy Hagar, is now available. Published by Skyhorse Publishing and Culinary Book Creations and co-authored with James Beard Award-winning cookbook author, James O. Fraioli, the book is available for order now.
Hagar's debut cocktail book brings his party rock anthem, "Mas Tequila!" to life with a collection of recipes paired with some of the Red Rocker's greatest memories. "I wrote this book for the Redheads," said Hagar of his dedicated fans. "I have been working and studying the art of making and drinking cocktails for decades now and have finally pulled together all of my favorites, my knowledge on how to do it, and what you need to throw the best parties with the best cocktails. I guarantee this is the only cocktail book you will ever need."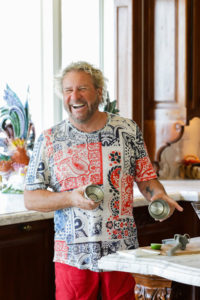 The collection of cocktail recipes are crafted with the Red Rocker's award-winning spirits portfolio including Santo Tequila Reposado, Santo Tequila Blanco and Santo Mezquila, a partnership with bigger-than-life award-winning chef and TV personality, Guy Fieri; and Beach Bar Rum, a partnership with fellow GRAMMY award winner, Rick Springfield.
Hagar's longtime friend, Fieri wrote the forward for the book, in which he notes, "One of the greatest things about Sammy is how he loves to share all of these experiences with his friends, family and fans, and this book is a perfect example of that."
The book begins with bartending basics and cocktail foundations before transitioning into chapters focused on themes: Splash of Aloha!, Hawaii's coolest cocktails; Mas Tequila, South of the Border cocktails; Sinful Signatures, Vegas-inspired cocktails; Tinseltown Twists with Cleveland Pre-Funk, an original mix of Hollywood and Cleveland's best cocktails; and Encore, more of Sammy's personal favorites.
Signature cocktail recipes include the Coconut Mojito, Maui Mama, Tiki Swizzle, Blanco Gimlet, Coco Loco, Coronarita, Santo Oaxaca, Santo Paloma, Brazilian Kiss, Vojito, Strawberry Surf, Black & Blue Lemonade, and more. See examples of recipes from the book below.
All recipes reprinted from Sammy Hagar's Cocktail Hits: 85 Personal Favorites from the Red Rocker with permission.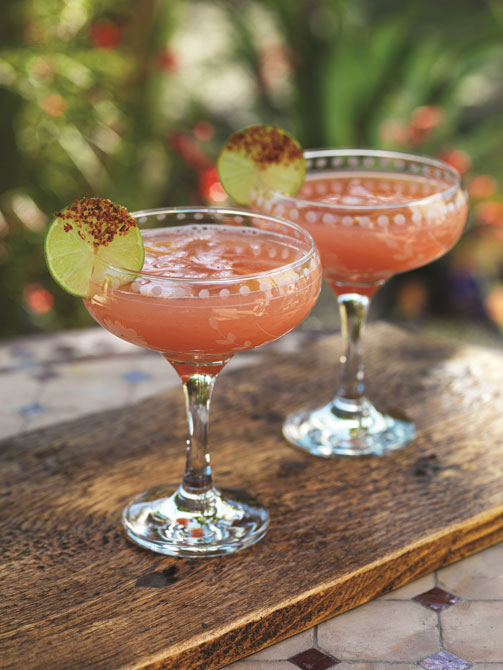 Guava Martini
1 1/2 oz Santo Blanco Tequila
1 oz Fresh pineapple juice
1 oz Guava Juice
Garnish: Fresh lime wheel dusted in Tajín
In a cocktail shaker, fill with ice and add the tequila, pineapple juice, and guava juice. Shake well and strain into a chilled martini or coupe glass. Garnish with a fresh lime wheel dusted in Tajín.
Santo Sunrise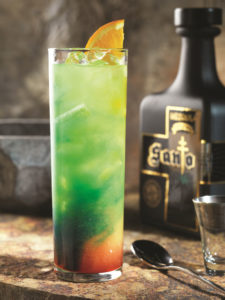 1 1/2 oz Santo Mezquila
4 oz Fresh orange juice
Splash of grenadine
Splash of Blue Curaçao
Garnish: Fresh halved orange wheel
In a tall glass filled with ice, add the mezquila, orange juice, grenadine, and Blue Curaçao. Stir well and garnish with a fresh halved orange wheel.
Da Kari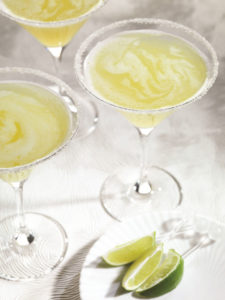 1 Large piece fresh pineapple, rind removed
2 oz Sammy's Beach Bar Platinum Rum
1/2 Fresh lime, squeezed
1 oz Simple syrup
Rim: Lime and cane sugar
Garnish: Fresh lime wedge
Run a fresh lime wedge around the rim of a chilled martini glass. Then roll the moistened rim in cane sugar and set the glass aside. In a cocktail shaker, add the pineapple. Using a muddler, gently (yet firmly) muddle the pineapple. Then add the rum, lime juice, and simple syrup. Fill the shaker with ice and shake well. Strain into the prepared martini glass. Garnish with a fresh lime wedge.