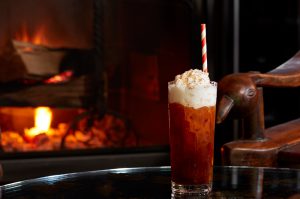 Ingredients:
2 oz Knappogue 16 Year Whiskey
2 oz Birch Cold Brew
.75 oz Demerara syrup
1 dash Bittermen's Mole bitters
Top: Benedictine whipped cream*
Glass: Highball
Ice: Cube
Garnish: Grated nutmeg
*Bénédictine Whipped Cream
4 oz Heavy Cream
1 oz Benedictine
.5 oz oz simple syrup
Method: Place the cream, Bénédictine and simple syrup in a mixing tin and whip by hand until light and fluffy. Alternatively, place all three ingredients in a blender and lightly pulse until the cream becomes fluffy.
Directions:
Whip shake all but the whipped cream with one ice cube and strain into highball on fresh ice. Top with Bénédictine whipped cream
Available at Greydon House, Nantucket. Photo: Tim William.