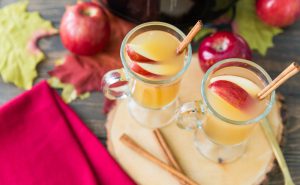 Ingredients:
8 parts Pinnacle® Original Vodka
7 cups apple cider
8 parts caramel syrup
2 teaspoons ground cloves
2 tablespoons cinnamon
¼ cup brown sugar
Apples for garnish
Directions:
Combine ingredients in slow cooker and cook on low for 3 hours. Garnish with sliced apples and a drizzle of caramel. Add lots of apple slices floating in your slow cooker for visual presentation and extra flavor.
Courtesy of Pinnacle Vodka.