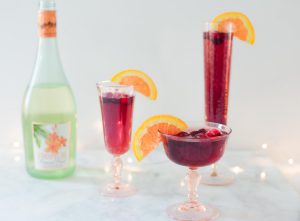 Ingredients:
3 oz Passion Fruit Moscato
1 ½ oz Cointreau or other orange liqueur
1 oz vodka
2 oz cranberry juice
½ oz orange juice
Garnish: cranberries and orange slices
Directions:
Mix the orange liqueur, vodka, cranberry juice, and orange juice in a shaker with ice and shake. Then strain into a glass. Top with Passion Fruit Tropical Moscato and stir. Garnish with cranberries and orange slice.
Recipe and photo courtesy of Ashley Rose Conway.