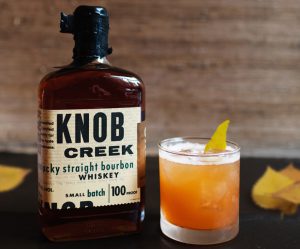 Ingredients:
2 parts Knob Creek® Bourbon
1/2 part simple syrup
1/4 part maple syrup
3/4 part lemon juice
1 dash Angostura® Bitters
Directions:
Put all ingredients in a shaker tin, adding Knob Creek® Bourbon last. Fill half the shaker with the largest ice cubes available. Shake well and strain the moment it gets cold to avoid over dilution. Strain into a chilled rocks glass with ice.
By Kyle Davidson (Chicago, IL)