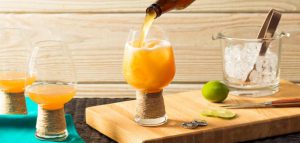 Ingredients:
2 parts Cruzan® Single Barrel Rum
1/2 part Lime Juice
1/4 part Ginger Syrup
1 Wheat Beer
Directions:
Combine rum, lime, and ginger syrup in a pint glass and slowly pour half of the beer into
the glass. Add a few ice cubes and finish pouring the beer.
Courtesy of Cruzan.