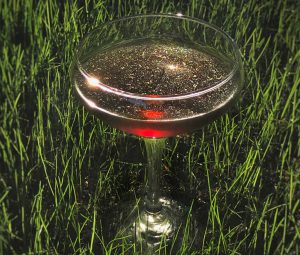 Ingredients:
1 oz Amaro Tonico (Ferro-Kina)
1/2 oz St George Terroir Gin
1/2 oz olive oil washed St George Terroir Gin
1/2 oz black pepper and bay shrub
Directions:
Combine all ingredients in an ice filled shaker. Shake for 30 seconds. Strain into chilled cocktail coupe. Garnish with fresh cracked black pepper.
Olive oil washed gin:
Combine 1 part olive oil to six parts gin in a wide mouthed mason jar. Shake to combine. Leave for 24 hours. Put jar in freezer until oil solidifies and then remove oil puck from gin (or skip the freezer if using a fat separator).
Black pepper and bay shrub:
3/4 cup sugar
3/4 cup water
2 teaspoons black pepper corns
3 bay leaves (fresh from tree if possible)
Bring water and sugar to boil. Add peppercorns and bay and cover. Turn burner off and let steep for 15 minutes. Strain out solids and bottle. Stir in  1 oz red-wine vinegar.
Courtesy of BAR BIANCO (PHOENIX, AZ) – JUSTIN VARGO.