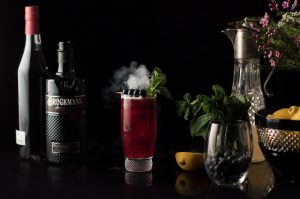 Ingredients:
2 parts Brockmans Gin
½ part Blueberry liqueur
½ part Lemon juice
3 parts Blueberry puree (bought in a sachet or home-made)
3 parts Ginger beer
Dry ice pellets
Directions:
Shake the first four ingredients with ice. Strain into a tall Collins glass filled with a few dry ice pellets topped with ice cubes and top with the ginger beer. Garnish with a mint sprig and a knotted bamboo skewer or a cocktail stick with 3 blueberries.
Courtesy of Brockmans Gin.