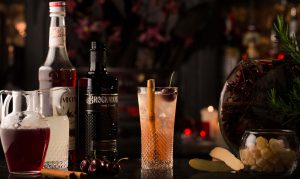 Ingredients:
2 oz. Brockmans Gin
0.5 oz. Cinnamon syrup
Ginger beer
0.25 oz. Cherry Brandy (a capful)
Directions:
Fill a highball glass with ice cubes, add the Brockmans Gin and cinnamon syrup and top with ginger beer. Drizzle the Cherry Brandy over the top. Garnish with a stick of cinnamon and a cherry.
Courtesy of Brockmans Gin.