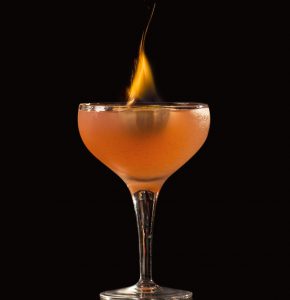 Ingredients:
2 oz. Brockmans Gin
0.75 oz. fresh grapefruit juice
0.5 oz. fresh lime juice (retain the lime peel)
0.5 oz. Cherry Liqueur
0.5 oz. cinnamon syrup
Dash of Absinthe
Directions:
Combine Brockmans, juices, cinnamon syrup, and cherry liqueur in a shaker filled with ice, shake, and strain into a coupe glass. Garnish with lime half turned inside out. Float on top of the cocktail and fill with a cube of sugar and dash of Absinthe. Ignite & sprinkle a pinch of cinnamon powder over the flame.
Courtesy of Brockmans Gin.