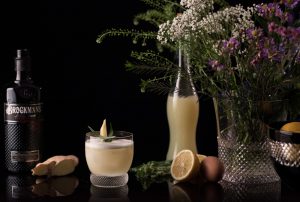 Ingredients:
2 parts Brockmans Gin
1 part Lemon Juice
½ part Gomme
White of one egg
Fresh Ginger
Fresh French Tarragon Sprigs
Directions:
Muddle a large sprig of tarragon and 3-4 slices of fresh ginger in a shaker. Add all the other ingredients and shake with ice. Strain over fresh ice in a rocks glass. Garnish with a sprig of tarragon and a slice of fresh ginger.
Courtesy of Brockmans Gin.