Vinexpo New York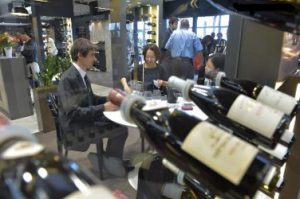 announced the schedule of conference sessions at its highly anticipated exhibition, to be held at the Jacob K. Javits Convention Center March 5-6, 2018. Jointly organized with Diversified Communications, Vinexpo New York is the leading international exhibition for wine and spirits professionals in North America.
On Monday, March 5, from 10:30-11:15 a.m., Brandy Rand, U.S. President of the IWSR, the leading provider of data and analysis on the global beverage alcohol market, will speak on "The Wide World of Wine: Key Trends in U.S. and Global Consumption," presenting insightful data on shifting patterns of consumption, and identifying key markets and trends. Audience members will gain an understanding of the top segments and brands driving volume and value, as well as the evolving consumer behaviors affecting the future of wine. Also on Monday, Ph.D. student Molly Clemens will discuss "How a Changing Environment Is Shaping a New Wine Industry" from 12-1 p.m., and Wine Origins Alliance will hold a tasting event featuring wines from a variety of regions from 2-4:30 p.m.
On Tuesday, March 6, from 10:30-11:30 a.m., Tom Matthews, executive editor of Wine Spectator, will moderate a panel on "Current Trends in the U.S. Wine Market," with Chris Adams, CEO of Sherry-Lehmann Wine & Spirits, Martin Sinkoff, VP of marketing at Frederick Wildman and Sons. Marcy Whitman, SVP of marketing and brand development at Palm Bay International. From 12:30-1:45 p.m., Forbes' Columnist and Co-founder and CEO of Enolytics Cathy Huyghe will moderate "Millennials' Purchasing Power and the Rise of E-Commerce," with Lara Crystal, co-founder and co-CEO of Minibar Delivery, Valerie Gerard-Marsuura, trade relations director of Sopexa, Heini Zachariassen, founder and CEO of Vivino, Jacob Moynihan, founder and CEO of Merchant23, and Pascaline Lepeltier, M.S., managing partner of Racines NY.
On Sunday, March 4 from 3-4:30 p.m., to support its more than 470 exhibitors – 90 percent of which are coming from outside the U.S. – Vinexpo New York will hold a pre-event panel discussion on doing business in the U.S., "What Exhibitors Can Expect During Vinexpo," with industry experts Chris Mehringer, president of Park Street Imports, Emily Pennington, managing editor of "Wine & Spirits Daily," Brian Rosen, CEO of BevStrat, Gabe Barkley, general manager of MHW, and Steve Raye, president of Bevology Inc. It will be followed by a light reception. More information on this event is available as well as the full list of exhibitors.
All conference sessions and master classes are included with event registration and have open seating. Information on the full conference program, the full schedule of master classes, and attendee registration is available online. Attendees who register by March 4 will enjoy a $25 discount.