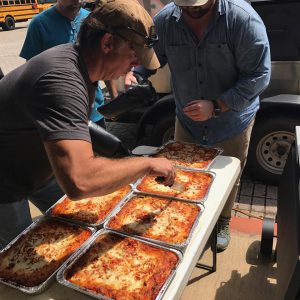 On Sunday, September 24, 2017, New York City's food and beverage communities will unite on behalf of those hurt most by Hurricanes Harvey and Irma. The fundraising event, "NYC LOVES TX & FL," has been organized by Journalist Jenny Adams, Speed Rack Co-Founder and Bartender Lynnette Marrero, and Alba Huerta, Owner/Operator of Julep in Houston, TX.
This ticketed, multi-room tasting event will feature pop-up-styled experiences of the city's most illustrious bartenders and leading chefs serving their signature cocktails and small bites. Craft cocktails from low-ABV style to nightcaps will be shaken and stirred by bartenders from The Dead Rabbit, Porchlight, Pouring Ribbons, The Raines Law Room, Flagship Montauk (Master Mixologist – Adam Miller), and more. In addition, there will be a silent auction of items ranging from rare spirit collections, kayak trips, cocktail crawls, helicopter excursions, a cocktail class at RedFarm/Decoy with Master Mixologist Shawn Chen, and even four-day vacations, with all proceeds also benefitting the foundation. The event will be held at Pier A Harbor House, which is generously donating its space (22 Battery Place, Lower Manhattan).
Tickets ($125 for VIP Hour of Vodka & Oysters, $75 for General Admission) and may be purchased in advance at http://bit.ly/2gYyTaN or at the door.
Every cent raised at this event will be given to The John Besh Foundation, a 501(c)(3)  established in the wake of Hurricane Katrina to provide crisis relief after storms, as well as scholarships and financial aid. The John Besh Foundation is already on the ground in Texas and Florida, working tirelessly to clear debris, salvage and rebuild homes, while providing chef-worthy meals to those in dire need. Chef Besh and his culinary team will be serving signature bites at the event.
Participating bars and restaurants include:
Basík, BlackTail, Boulton and Watt, Daddy-O, Drexler's, Flagship Montauk, Llama Inn, Loverboy, Nitecap, Porchlight, Pouring Ribbons, Suffolk Arms, The Dead Rabbit, and The Raines Law Room, RedFarm/Decoy, with more to come.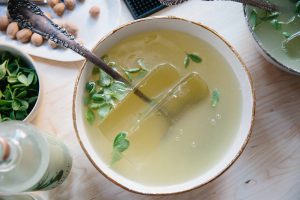 GUESTS OF HONOR
New Orleans Chef, Author and Activist John Besh and
Alba Huerta, Owner/Operator of Houston's acclaimed Julep
PARTNERS FOR SILENT AUCTION
Spirit brand partners include: VDKA 6100, Aviation Gin, Campari, ITALICUS Rosolio di Bergamotto, Laird & Company, Seedlip, and Sombra Mezcal, with more to come.
ENTERTAINMENT GALORE
Music will be provided by Bartender/D.J. Tomas Delos Reyes, along with various live acts, burlesque, a short film and toasts throughout the evening.
WHEN
3pm-4pm – VIP Admission
4pm-8pm – General Admission
Photos (top to bottom): Josh Besh serving food on behalf of John Besh Foundation, courtesy of John Besh Foundation; Punch by BlackTail and The Dead Rabbit Jack McGarry featuring non-alcoholic spirit sponsor Seedlip, courtesy of Seedlip.