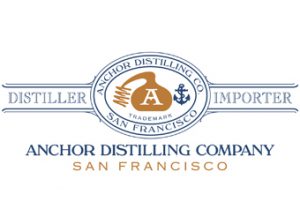 Anchor Distilling Company, now a fully independent company, was not part of the Sapporo Holdings Limited acquisition of Anchor Brewing Company that was announced today.
Anchor Distilling Company will continue to be led by current President and CEO, Dennis Carr, and remain under current ownership. This separation of the two companies will coincide with the completion of Sapporo's acquisition of Anchor Brewing Company scheduled for August 31, 2017, and allows Anchor Distilling to increase focus and accelerate the growth of its super-premium global craft spirits portfolio in the U.S. Anchor Distilling Company will remain headquartered in San Francisco and employ approximately 54 people once fully independent.
"With the additional resource and a dedicated team, Anchor Distilling Company will be 100% committed to aggressively building its portfolio of core and emerging brands, expanding its direct-to-consumer business, and innovation. We see this evolution as a testament to the brand building platform we have built and the momentum we have experienced over the past several years," says Dennis Carr, President and CEO, Anchor Distilling Company.
Founded in 1993 and headquartered in San Francisco, Anchor Distillery is credited with creating the first American craft whiskey (Old Potrero) and gin (Junipero Gin) post prohibition. Over the last seven years Anchor Distilling Company has grown 500% and evolved into a distiller and importer of super-premium global craft brands. After the separation, Anchor Distilling will remain the exclusive U.S. importer representing the renowned spirits portfolio of brands including: Luxardo Liqueur and Cherries; Nikka Whisky, Kavalan Whisky, Tempus Fugit Spirits liqueurs, Alessio Vermouths, HINE Cognac, BarSol pisco, Ypioca Cachaça, New Zealand Whisky Company, Chinaco Tequila, Briottet, C. Drouin Calvados, The King's Ginger, Mezcal Amaràs, Hirsch Bourbon, No.3 Gin, Slaur, English Harbour Rum, Chateau de Montifaud Cognac, Senior Curacao Liqueur, Karlsson's Gold Vodka, Etter and F.Meyer. Anchor Distilling Company will also continue to sell and market the brands produced by Anchor Distillery, including Junipero Gin, Old Potrero whiskies, Old Tom Gin, HOPHEAD Vodka, and Genevieve.