The days of getting into a bar or nightclub under the legal drinking age are rapidly coming to an end thanks to the technology provided by a number of companies with ID scanner systems.
Over the last decade or so, technology to benefit 21 and over establishments has been developed and improved upon.
This technology significantly cuts down on underage drinking, helps security staff manage their guests by keeping track of who is in their venue, and even provides analytics regarding a patron's spending rate per hour.
PatronScan
Graham Lancaster is the Director of Sales and Marketing for one such company, Servall Biometrics, the makers of PatronScan, which is the leading ID scanning system for licensed venues in North America and Australia. The company is based out of Alberta, Canada, but it serves a worldwide market with its popular photo ID scanners.
"About 12 years ago, we developed this technology to address fights or altercations that were occurring in bars and nightclubs," says Lancaster. "However, the scanners quickly provided solutions to a number of other problems—primarily cutting down on the use of fake IDs to get into clubs underage."
The PatronScan system sells a single-unit kiosk that is a mobile, 20-pound, glass-based scanner that scans the identification and takes a live photo of every person who enters an establishment. The scanner, which runs very much like a cell phone, needs only power and WiFi to operate.
"Approximately 85% of our customers buy the single-unit kiosk, which costs about $1,000.00 for the unit and $88 per week to operate on our most comprehensive plan," explains Lancaster.
Bars now have the technology to collect live information that is sent to a server, which stores a whole range of patron demographic information as well as analytics. Bars can use this data to address revenue generation issues such as spending rate per hour and space issues like percentage of unused capacity.
"Basically, PatronScan is an information system that is designed to collect data using an ID scanner at the front door of any venue and provide high-value, real-time information to venue management, security, and the police. All of our ID scanners in North America are connected in real time," says Lancaster.
When a nightclub buys an ID scanner, they are typically trying to solve one of two problems. The first is minors trying to sneak into licensed venues, and the second is fights and altercations.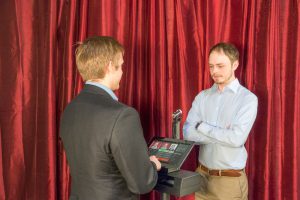 The ID scanner is placed at the entrances of the venue—inside or outside. The ID that a patron presents is scanned and, in less than two seconds, determines the identity of that person by capturing both the ID image and a live photo of the person. The system will check to ensure the patron is of legal age, the ID is not expired, and the ID is not a fake.
"Then," Lancaster says, "the identity of the patron is compared against the Banned Patrons List, a list containing over 45,000 patrons who have been banned for fighting, sexual assault, drugs, and other bad behavior.
"The venue staff is notified if the patron is currently banned, and door staff can decide whether to admit or deny entry."
According to Lancaster, "Our data shows that over 95% of all incidents in nightclubs are caused by less than 1% of patrons."
Because the system operates in real time, using the Banned Patrons List is a very effective way to deal with this 1% of problem patrons while allowing the other guests to enjoy their night out safely.
This is an effective way to provide consequences to bad behavior without having to call the police and press charges on every offender.
Every establishment operating the PatronScan system has real-time access to this list and can monitor patrons trying to get into one bar after another.
Managers or security staff who operate the kiosk have the capability to ban a customer for the rest of the night for being overserved or for up to a year, depending on the number and severity of offenses.
The vast majority of people on the banned patrons list are there for ID passing, which is when a patron enters a bar legally and then passes the ID back to an underage person. And because of the photo ID feature, patrons can no longer share IDs (unless they look exactly like the person whose license they are attempting to use). By having a live picture of every customer, the system provides an alert every time that person reenters the venue.
While Lancaster admits there is the possibility of operator error in identifying someone who is underage but looks similar to the picture on the ID, the margin for error is extremely small. In fact, there are challenge questions to use for every questionable ID scan.
There are two categories of challenge questions that Lancaster recommends—age-based and location-based. "Questions like, 'what is
your zodiac sign?' Or location-based questions like, 'what is your area code and zip code?'" he says. "Even questions about things that may not be found on the ID, such as what is written on the license plate of the state their ID is from, are effective methods to combat using somebody else's legitimate license, passport, or other photo ID."
Intellicheck, Inc.
Intellicheck, Inc. is another company providing state-of-the-art technology solutions to ensure businesses stay in compliance with state and local laws that govern the sale of age-restricted products. Their Age ID™ product reads data encoded on driver's licenses and government issued IDs to verify authenticity and age information in real time, according to Vice President of Sales Paul Fisher.
"Much like a traffic light, our mobile interface, Age ID™, quickly returns a red, yellow, or green status alerting the bar staff of authentication status: green – proceed, yellow – an expired document, or red – an unknown format depicting a fraudulent document," says Fisher.
Intellicheck offers up-to-date solutions to the fake or altered ID dilemma and has the ability to read more than 250 unique DMV barcode formats anywhere in North America.
Age ID™ can be easily integrated with POS systems and can quickly be deployed on mobile devices, including smartphones or tablets. Intellicheck draws on a proprietary database, updated on an ongoing basis to ensure information is timely and accurate.
IDetect, Inc.
IDetect, Inc., another ID Scanning Security Company, is currently being used by the FBI, US Secret Service, and even at Andrews Air Force Base to validate driver's licenses, military IDs, passports, and most government-issued identification cards.
The IDetect system works similarly by taking a photo of both the patron and the ID itself, and it has options that can be integrated with existing POS systems, saving its clients both space and money with its Elite Handheld ID Scanner.
"The benefit of having a photo of the ID used is for 100% diligence proof," says Michael Sengstaken of IDetect, Inc. "Diligence proof is being able to prove that you processed a patron through our system, which means fully checking their ID.
"IDetect dramatically cuts down on underage drinking by stopping fake, underage, banned, shared, expired, or forged IDs. This basically makes sure that the club does not incur any fines, infractions, or even revocation of their liquor license, which they need to stay in business."
IDetect also has many other features that clubs find useful, such as displaying forensic information regarding each ID at the check-in screen, allowing clubs to utilize their own VIP cards to allow patrons to check in through the system, collecting and storing admission fees via an automatic cash drawer, and printing custom wristbands for each patron to gain entry.
Their system also offers valuable analytics, which allow venues to target their advertising dollars in the most effective areas.
"Our iPOS systems can do all that and more," says Sengstaken, "plus install directly on the client's POS system."
While some customers are understandably reticent to have photos of themselves and their IDs taken upon entrance to any bar or club, Sengstaken explains that most of the patrons who refuse to have their ID scanned and picture saved are typically the ones who cause trouble once inside.
"If they complain that they don't want their picture taken," says Sengstaken, "most clients of ours simply tell the patron that this is the first of many security cameras all throughout the club that will take their picture."
Effective Results
Venues may encounter pushback from some patrons, but the ID scan technology is working.
"We are confident that we are reducing underage drinking," explains Fisher of Intellicheck, Inc. "With 99.9% certainty in our authentication engine, every failed scan reported by our application represents an alcoholic beverage that was not served to a minor.
"At one recent concert venue, one of our valued clients had more than 2,500 IDs abandoned by their underage owners."
Regardless of which technology you are looking to utilize, it appears one thing is fairly certain—the days of using fake/chalked IDs or big brother's license to enter an adult establishment underage are over.
By Keith Labelle
Photos (top to bottom): Shutterstock.com, PatronScan.