MARTINI & ROSSI®, the world's leading vermouth, today unveiled its latest innovation. Inspired by the original 1872 MARTINI & ROSSI Bitter recipe, Riserva Speciale Bitter has been crafted to combine perfectly with the Riserva Speciale Ver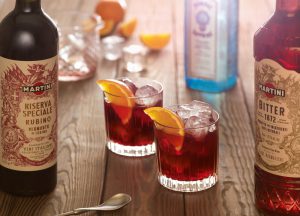 mouth Di Torino – creating the ultimate MARTINI & ROSSI Negroni – as well as a raft of other classic Italian aperitivo cocktails.
The new product joins the Riserva Speciale Rubino and Riserva Speciale Ambrato as part of a dedicated craft of exceptional Italian Aperitivi for bartenders and drinks enthusiasts, inspired by the home of MARTINI & ROSSI, Turin.
"I have been looking forward to this day for quite some time!" said Roberta Mariani, MARTINI & ROSSI Global Ambassador. "With the MARTINI & ROSSI Riserva Bitter, I feel we have produced something that is both modern yet quintessential; I am excited to be able to finally talk about it and to share this liquid with the industry it has been created for. Every bartender I know loves a Negroni; by creating a Bitter that shares the same botanicals as those in in MARTINI & ROSSI Riserva Speciale Vermouth and developing it to perfectly match the flavour profile of BOMBAY SAPPHIRE® gin, I believe we have created the best tasting Negroni in the world. The MARTINI & ROSSI Negroni, a perfect match, born in Torino!"
To develop the new Riserva Bitter, MARTINI & ROSSI used 100% natural ingredients and the original 1872 recipe, created by MARTINI & ROSSI founder Luigi Rossi, as their inspiration. MARTINI & ROSSI Master Herbalist, Ivano Tonutti, has carefully selected three rare botanicals (Saffron, Angostura and Columba), to deliver a unique richness and complexity to its taste profile through different dimensions of bitterness. The Bitter is also rested in the same Tino cask that is used for MARTINI & ROSSI Riserva Speciale Vermouth di Torino extracts and shares the vermouth's common botanical, Italian Artemisia, allowing its unique complex bitter taste to perfectly complement it.
MARTINI & ROSSI Bitter provides the ideal component in a raft of classic Italian aperitivo cocktails and is also delicious served alone, or simply mixed with tonic for a refreshing drink.
"The art of the bitter aperitivo is to create a complete and rounded sensation of bitterness in the mouth," says Beppe Musso, MARTINI & ROSSI Master Blender, "This is achieved by our incredible Master Herbalist Ivano Tonutti slowly building up layers of different styles of bitter botanicals, one by one for a more complex profile, until all are beautifully playing together like in an orchestra creating an uplifting melody."
Since 1863, MARTINI & ROSSI has been producing vermouth in the Piemonte region, on the same site where it was established over 150 years ago; Vermouth di Torino has recently obtained appellation of origin from Italy's Ministry of Agricultural Policy.
MARTINI & ROSSI Riserva Speciale expresses the quality and authenticity of the original style of Vermouth di Torino, reclaiming its traditions whilst innovating to provide bartenders with modern, crafted and authentic products with which they can create the aperitivo of the future.
MARTINI & ROSSI Riserva Speciale Bitter will be made available in early October.