Tiger Beer, the #1 premium beer in Asia and one of the world's fastest growing premium beer brands[1], is partnering with the World Wide Fund for Nature (WWF) to raise global awareness of the need to protect and double the population of wild tigers by 2022. The brand's fully integrated "Back a Ranger" retail and on-premise program, including digital media, PR amplification, limited edition pac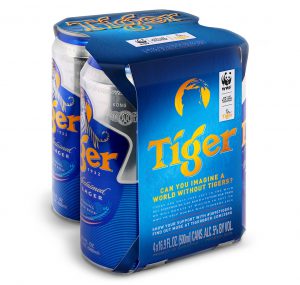 kaging, POS and 'donation match' activation, will inspire LDA+ consumers to take action against the illegal tiger trade – the greatest and most immediate threat to the species worldwide.
The brand's 6-year partnership with the World Wildlife Fund launches this summer starting with a $1MM donation to support the organization's tiger conservation efforts. The partnership will also see the launch of a digitally led global awareness campaign – 3890Tigers – that utilizes the power of art and creativity to inspire action.
Once found in diverse habitats across Asia, the world's wild tiger population has shrunk by an alarming 96 percent in the last century due to illegal tiger trade, poaching and habitat loss. Today, the world is at risk of losing this majestic species completely, with only an estimated 3,890 tigers remaining in the wild.
Mike Baltzer, Leader of WWF Tigers Alive commented, "Wild tigers are more than just a majestic species. As a predator at the top of their food chain, they are an indicator of the health of the ecosystems we all depend on. The commitment to doubling their population is the best chance we have at securing the future of wild tigers and their habitats."
To inspire collective action and drive home the urgency of the situation, Tiger Beer is altering its logo for the first time in 84 years.  Starting July 2017, Tiger Beer will introduce a limited-edition package design with the iconic tiger removed from the brand's logo.  At retail and on-premise, custom designed POS elements will invite consumers to purchase Tiger Beer, make a donation to the cause and earn WWF relevant rewards including branded water bottles, mugs and framed artwork. Easy text-to-link mechanics lead consumers to the tigerbeerus.com/ranger education and donation site. Donations are used to fund essential items needed by the rangers who are on the front line protecting tigers from extinction. Tiger Beer will match consumer donations in the U.S. up to $25,000.
"It is an honor for us to partner with WWF to help protect the population of wild tigers," said Amberly Hilinski, Senior Brand Manager, Five Points Trading Company.  "Tigers are more than just an emblem of our brand; they symbolize strength, courage and power and are a source of creative inspiration for the many artists Tiger Beer champions and supports through its activities."
"Hilinski added, "We are thrilled to bring this program to life in the U.S. to build awareness of the plight of the tiger while providing our retail and on-premise partners the tools to drive incremental sales of imported Tiger Beer. Imports grew 4X faster than total beer and had a 26% higher promotional lift during summer 2016[2]. Import beer shoppers are 84% more likely to select beer from a promotional offer[3] during the summer holiday season which, represents the top 10 biggest beer selling weeks and nearly 36% of annual category $ sales[4]. By allotting greater promotional space to Tiger Beer this summer, retailers can drive higher margin import sales and increase their bottom line while encouraging their customers to take a stand and make their voices heard."