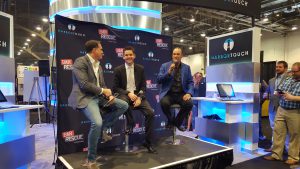 Award-winning business consultant Jon Taffer, best-known as host and executive producer of Spike TV's #1 hit show Bar Rescue, is taking his legendary advice on the road this summer, embarking on a 27-city "Rescue Tour" beginning July 10 in San Jose, CA.  The half-day workshop has been personally designed by Jon Taffer to instruct and inspire bar owners, managers and various small business owners and industry professionals aiming to take their career and business to a higher level of success.
With hard-hitting strategies and tactics to help grow, run and jumpstart a business, Taffer will deliver his educational and entertaining message to business audiences across the spectrum, from entrepreneurs just starting out to established CEOs.  As seen on Bar Rescue, Jon is a proven force in transforming companies by changing how its leaders think and what they do.
Covering management, operation and promotional strategies, these three-hour workshops encompass such topics as diagnosing a business's problems through specific case studies and action steps needed for each.  Jon Taffer will teach attendees his signature tactics and programs proven to achieve the "Sales Trifecta":
New customer development programs that will jumpstart growth
Customer frequency programs to build sales up to 12%
Four walls sales programs to increase sales per guest up to 24%
Taffer Dynamics' world renowned "Eight Adjective System" of hiring and training winners and much more.
The program in each city includes a keynote address, breakout sessions, interactive activities, networking reception with operators, speakers and sponsors, and comprehensive workbook filled with essential tools and tips to take home and put into practice.
"While the work you see on my television series touches people in a general but powerful way, it is only a glimpse of what you will learn in the day you spend with me. My goal for this event is to show small business pioneers in local communities how much potential they have to thrive, and give them the tools they need to succeed," said Taffer.
Tickets are $199, with a special $499 VIP package available including early admission, a meet-and-greet and photo with Jon Taffer prior to the event, signed copy of Jon Taffer's book "Raise the Bar," and VIP seating in the workshop room.  The Rescue Tour is sponsored by Harbortouch POS, the industry's first "Smart" POS system and Bar Business Magazine, which is the official promotional partner. Buy tickets or get more information about the "Rescue Tour."
With some venues still to be confirmed, the "Rescue Tour" initial tour schedule includes:
July 10:         Fairmont San Jose, San Jose, CA
July 11:         The Grand Long Beach Events Center, Long Beach, CA
July 12:         Marriott Marquis San Diego Marina, San Diego, CA
July 17          Hilton New Orleans Riverside, New Orleans, LA
July 18:         JW Marriott Houston, Houston, TX
July 19:         Marriot San Antonio Rivercenter, San Antonio, TX
July 20:         Hilton Anatole, Dallas, TX
July 24:         DoubleTree Hilton Pittsburgh, Pittsburgh, PA
July 25:         Crown Plaza Cherry Hill, Philadelphia, PA
July 26:         Doubletree Norfolk, Norfolk, VA
July 27:         Peachtree Atlanta, Atlanta, GA
July 31:         Westin Southfield, Detroit, MI
August 1:      TBD, Chicago, IL
August 2:      Marriott Airport, Nashville, TN
August 3:      Hyatt Regency, Milwaukee, WI
August 7:      Keeping Memory Alive Event Center, Las Vegas, NV
August 8:      Hyatt Regency, Phoenix, AZ
August 9:      Sheraton Downtown, Denver, CO
August 10:    Sheraton Clayton Plaza, St. Louis, MO
August 14:    Hyatt Regency, Orlando, FL
August 15:    Sheraton Riverwalk, Tampa, FL
August 16:    Hyatt Regency Coconut Point, Fort Meyers, FL
August 17:    TBD, Fort Lauderdale, FL
August 22:    Adams Mark, Buffalo, NY
August 21:    Westin Waltham Boston, Boston, MA
August 23:    TBD, New York City, NY
August 24:    Garden City Hotel, Garden City, NY